Peterborough Lunchtime Running Sessions Return For 2019
30 April 2019, 10:00 | Updated: 30 April 2019, 11:27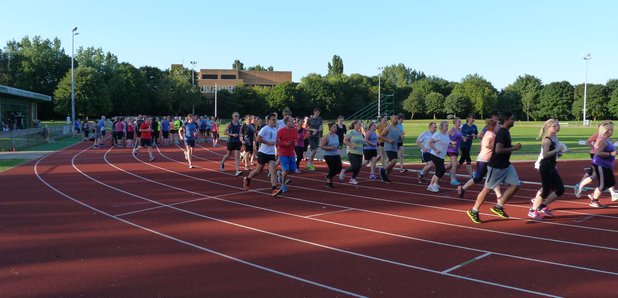 A series of free lunchtime running sessions will make a return to Peterborough's city centre from May through to July.
The hour-long sessions give people the opportunity to put on their trainers, take advantage of the fresh spring air and get active during a lunchtime break
The runs will take place at the Embankment Athletics Track every Wednesday until 3rd July from 12pm-1pm and are overseen by a fully qualified England Athletics Endurance Coach.
Everyone is welcome to attend the sessions and all abilities will be catered for.
There's no need to book in advance, just simply turn up with your trainers and running clothes. Changing facilities and showers will be available at the athletics track and for further information you can email info@run4fun.co.uk.
Annette Joyce, Peterborough City Council's service director for city services, said: "The lunchtime running sessions have been held for the past three years and have always been popular, so we were very keen to run them again in 2019.
"The hour long sessions are suitable for everyone, even if you've never thought about taking up running before. The hour can be based on the athletics track with the option to run out further into the city centre if you want to stretch your legs a little more."
Running and exercise can be part of living a healthier lifestyle and residents can find out more advice on the Healthy Peterborough website.

Perkins Great Eastern Run

The big running event of the year in Peterborough is always the Perkins Great Eastern Run.
If you've got the running bug, why not sign up now? This year's event takes place on Sunday 13 October and also includes the Anna's Hope 5km Fun Run.
Where?
The free lunchtime running sessions take place every Wednesday from 12pm until 1pm at Peterborough Embankment Athletics Track on Bishop's Road and will help you get fit and feel good!