Enchanted Cinema Returns To Cambridge For 2019
14 March 2019, 06:00 | Updated: 5 September 2019, 13:56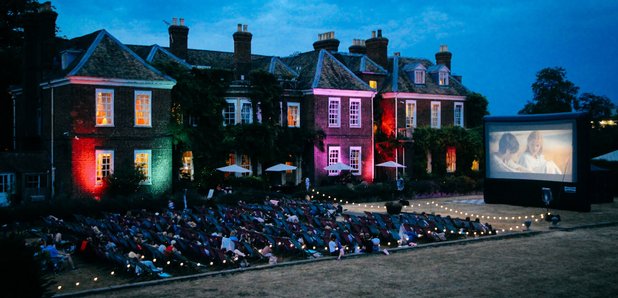 See all of your favourite films on the big screen this summer in Cambridge.
The Enchanted Cinema is back for its 5th-year from Saturday 4th May until Sunday 15th September with a blockbuster lineup of films.
They return this year to the beautiful gardens of the Gonville Hotel, in the centre of Cambridge
Expect to be wowed by a short film before each screening, magical light installations and live music from local artists until the screenings begin at sunset.
Plus, there is the chance to enjoy delicious food from some of the best street food vendors in Cambridge, an outdoor bar and a popcorn kiosk and live music from local musicians.
Deckchair and headphone hire is included in the price, so come, sit back and relax, they've got everything you need under the stars!
>> Click here to book your tickets

Schedule
May
4th - Launch event - trailers no set films
16th - Ray - Cambridge Jazz Festival
18th - A Star is Born
19th - Bohemian Rhapsody
30th - Dirty Dancing
>> Click here to book your tickets
June
1st - La La Land
2nd - Green Book
14th - The Favourite
15th - Grand Budapest Hotel
16th - Back To The Future
20th - The Great Gatsby - Cambridge Jazz Festival
28th - A Star is Born
29th - Bohemian Rhapsody
30th - The Favourite
>> Click here to book your tickets
July
5th - Romeo & Juliette
7th - Top Gun
18th - Mo Better Blues - Cambridge Jazz festival
19th - If Beale Street Could Talk
20th - Bohemian Rhapsody
21st - The Favourite
26th - Kill Bill - Volume 1
>> Click here to book your tickets
August
2nd - Mean Girls
3rd - Call Me By Your Name
4th - The Intouchables
15th - When Harry Met Sally - Cambridge Jazz festival
16th - Grease
17th - Great Gatsby
18th - Pulp Fiction
22nd - Amelie - Cambridge Jazz Festival
23rd - Dirty Dancing
24th - Bohemian Rhapsody
25th - A Star is Born
>> Click here to book your tickets
September
6th - Rocketman
8th - Mad Max: Fury Road
12th - Bridesmaids
13th - A Star is Born
14th - Bohemian Rhapsody
15th - Green Book