Peterborough Firework Fiesta 2018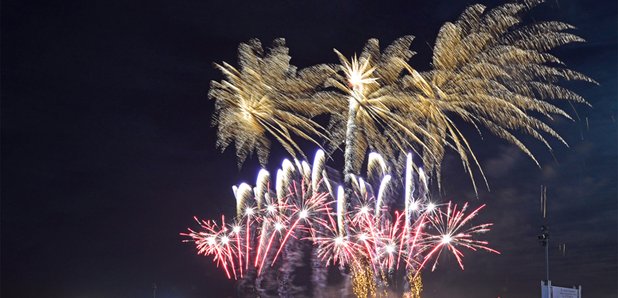 Peterborough Firework Fiesta explodes into action with a dazzling firework display on Saturday 3rd November, and it's all proudly supported by Heart.
Enjoy an evening at the East of England Showground and see a spectacular display of fireworks by Titanium, the company behind national celebration fireworks such as the Commonwealth Games and New Year displays in London and Edinburgh.
There will be brilliant live music throughout the event, which is hosted by Kev & Ros from Heart Breakfast. There will also be a variety of food outlets, fairground rides and family entertainment to enjoy.
The event is sponsored by Britannia Fire & Security and Anglia Ruskin University.

Times
5:00pm - Gates open
6:00pm - Lighting of the bonfire
7:30pm - Fireworks!
10:00pm - Gates close

Grab your ticket
Children (ages 2 to 14) £4.00 in advance, £5.00 on the night
Adults (aged 15 and above) £8.00 in advance, £10.00 on the night
Outlets
▪ Peterborough Visitor Centre, Bridge Street
▪ Queensgate Information Desk (Upper Floor)
▪ The Cresset Box Office, Bretton Centre
▪ Notcutts Garden Centre, Oundle Road
▪ Ferry Meadows Visitor Information Centre
▪ Ferry Meadows Caravan Park
▪ Peterborough City Hospital Friends of the Hospital Shop
Please note that payment options may vary at each location and payments on the night can only be made in cash.

See the display
Don't miss your chance to see one of the region's best firework displays.
Parking

With the event attracting around 10,000 visitors, make sure you allow plenty of time to arrive at the venue.
Free parking is available for this event at Peterborough Arena.
Vehicle entry to the Showground will be from Loch Lomond Way – Orton Northgate, and Dunblane Drive – Orton Southgate only.
At the end of the evening visitors will be able to leave by three exit points: Loch Lomond Way, Dunblane Drive and the A1.
All routes in and out of the showground will be one-way.
Pedestrians entrance and exit will be via Gate 5A off Loch Lomond Way.
>> More event travel information here