Smash your PB At The Perkins Great Eastern Run 2019!
11 February 2019, 06:00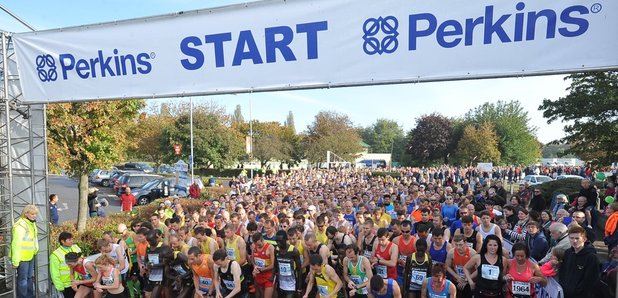 It's flat, it's fast and it's now open for you to register! Get involved in Peterborough's half marathon and 5k fun run event on Sunday 13th October.
The Perkins Great Eastern Run is ideal for beating your personal best time and has become one of the UK's fastest-growing running events.
It's proudly supported by Heart and organised by Peterborough City Council.
The race continues to grow even more successful with every passing year. With demand for places traditionally high, would-be runners are urged to sign up soon to avoid missing out.
>> Sign Up For The 2019 Perkins Great Eastern Run
About The Race
This year's course will once again be mainly flat, running through the historic city centre of Peterborough.
The Perkins Great Eastern Run is an event that the people of Peterborough always get behind, so expect hundreds of spectators to line the course and cheer you on your way!
Last year, the course was clocked as the eighth fastest in the UK for men and fourth fastest for women, with eight of the top ten men recording personal best times and the top six finishing women all recording personal bests.
During 2018, ten men beat a time of 63.60 in six UK races - one of which was the Perkins Great Eastern Run. Similarly, ten women beat 73.30 in six UK races, with one in Peterborough.
This year will see the winning prize rise from £750 to £1,000
>> Sign Up For The 2019 Perkins Great Eastern Run

Check out Peterborough City Council's highlights of the race in 2018.

Anna's Hope 5K Fun Run
If the half marathon distance isn't for you, why not take part and run the Anna's Hope 5k Fun Run?
The charity Anna's Hope was inspired by Anna Olivia Hughes, who tragically died from a brain tumour aged only three years and eight months in 2006. It's dedicated to giving hope to children and young people in the region diagnosed with a brain tumour and helps over 120 children each year.
>> Sign Up For The Anna's Hope 5K Fun Run