Sundown Cinema at the Wimpole Estate
24 May 2017, 06:00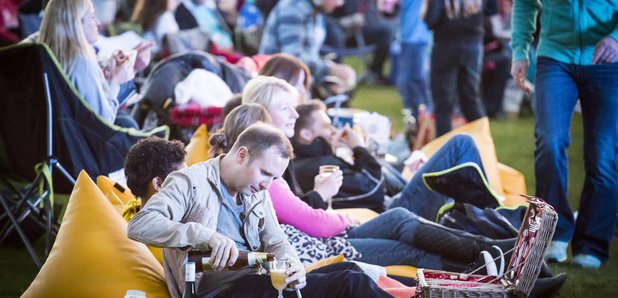 This summer, why not watch some of your favourite iconic films in a truly unique setting?
Sundown Cinema is returning to the Wimpole Estate this July for a season of classic movies under the stars, coupled with amazing food and drink.
The films range from kids' classics like Toy Story and Alice in Wonderland, to the multi Oscar award winning film La La Land!
The Wimpole Estate is a beautiful National Trust property set in stunning parklands, located just off the A1198 and A603.
What's On
Toy Story

Friday 28th July at 6pm

Woody (Tom Hanks), a good-hearted cowboy doll who belongs to a young boy named Andy, sees his position as Andy's favorite toy jeopardized when his parents buy him a Buzz Lightyear (Tim Allen) action figure. Even worse, the arrogant Buzz thinks he's a real spaceman on a mission to return to his home planet. When Andy's family moves to a new house, Woody and Buzz must escape the clutches of evil neighbour Sid and reunite with their boy.
>> Click here to book your ticket for Toy Story.
Shakespeare In Love

Friday 28th July at 8.30pm
Set in the 1590s, this romantic comedy imaginatively unfolds the witty, sexy and timeless tale behind the creation of the greatest love story ever told. A young Shakespeare (Joseph Fiennes) is out of cash and ideas, he meets his ideal woman and she inspires him to write one of his most famous plays.
>> Click here to book your ticket for Shakespeare In Love.
The Secret Life Of Pets

Saturday 29th July at 6pm
Max (Louis C.K.) is a spoiled terrier who enjoys a comfortable life in a New York building until his owner adopts Duke, a giant and unruly canine. During their walk outside, they encounter a group of ferocious alley cats and wind up in a truck that's bound for the pound. Luckily, a rebellious bunny named Snowball swoops in to save the doggy duo from captivity. In exchange, Snowball demands that Max and Duke join his gang of abandoned pets on a mission against the humans who've done them wrong.
>> Click here to book your ticket for The Secret Life Of Pets.
Romeo & Juliet

Saturday 29th July at 8.30pm

A romantic tragedy featuring two star-crossed lovers, Romeo (Leonardo DiCaprio) and Juliet (Claire Danes). Juliet's father Fulgencio Capulet (Paul Sorvino) has arranged her marriage to the boorish Paris (Paul Rudd) as part of a strategic investment plan but her heart is with another man from Verona Beach.

>> Click here to book your ticket for Romeo & Juliet.
Alice In Wonderland

Sunday 30th July at 6pm
When young Alice falls down a rabbit hole she is unaware of the magical world she is about to enter. She encounters an odd assortment of characters, including the grinning Cheshire Cat and the goofy Mad Hatter. When Alice ends up in the court of the evil Queen of Hearts, she must stay on the ruler's good side - or risk losing her head!
>> Click here to book your ticket for Alice In Wonderland.
La La Land

Sunday 30th July at 8.30pm
Sebastian (Ryan Gosling) and Mia (Emma Stone) are drawn together by their common desire to do what they love. But as success mounts they are faced with decisions that begin to fray the fragile fabric of their love affair, and the dreams they worked so hard to maintain in each other threaten to rip them apart.
>> Click here to book your ticket for La La Land.
Win tickets to Sundown Cinema!
Fancy winning a six-pack of tickets to attend a Sundown screening of your choice in the open air at the Wimpole Estate? Answer the question below and it could be you.
You'll also enjoy the film in style in the comfort of your very own gazebo with beanbags and a free wood fired pizza for each person. Don't miss out!