Thriplow Daffodil Weekend & Country Fair 2019
11 February 2019, 18:00 | Updated: 20 March 2019, 12:47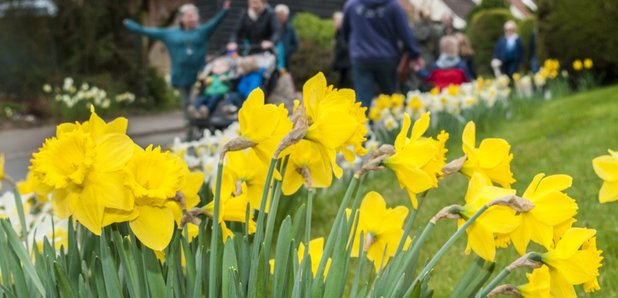 Thriplow's soon to be bursting full of 117 glorious varieties of daffodils and thousands of people over the weekend of 23rd & 24th March.
Up to 14,000 people are expected to visit Thriplow to experience the warm and friendly atmosphere of the Daffodil Weekend charity fund raising event. This year the Rosie Maternity Unit at Addenbrook's Charitable Trust is the event's nominated charity. Since its launch, more than £560,000 has been raised for local charities.
For months beforehand and over the weekend itself, virtually everyone in the village (and many neighbouring villagers) volunteer to help organise the event – be it baking cakes, helping serve teas, working in the car park or picking up litter at the end of the day. Every year, the exceptional Thriplow community works hard to pull off one of the best loved charity events in Cambridgeshire.
When?
The event is taking place on Saturday 23rd and Sunday 24th of March from 11am – 5pm across the village of Thriplow, Cambridgeshire.
>> Check out the pictures from 2018
Visitors can walk the car free village to look at over 100 daffodil varieties on display, visit the attractions and open gardens, potter around the stalls, take refreshment in the tea rooms serving homemade cakes and sandwiches, or eat delicious hot food while listening to live music.

The weekend started in 1969 because the church was in need of major roof repairs.
Residents decided to open up their gardens and made cups of tea from their own houses.
They made an amazing £206 and were so delighted they decided to do it all again the following year - and so the Thriplow Daffodil Weekend was born.
Each year, the village plants more and more daffodils to ensure the best possible event - whatever the weather! There are over half a million daffodils planted in the village and around 100 different varieties on show including a new variety of narcissus dedicated to the village called Thriplow Gold.
Attractions

CHILDREN'S THRIPLOW - traditional games, Punch & Judy, face painting, magic shows
COUNTRY THRIPLOW - mini land rovers, family dog show, fun gun dog scurry (Sun only), dog straw bale run, birds of prey, 'have a go' archery
TASTE OF THRIPLOW - food stalls, hot food, beer tent, live music, school recitals THRIPLOW SCHOOL tea room, craft stalls
VILLAGE GREEN - stalls, craft marquee, Morris dancing, food & drink
THE SMITHY - blacksmith demonstrations
THE GREEN MAN PUB - live music, steam engine
VILLAGE HALL - tea room
VILLAGE SHOP - hot & cold food and drink, groceries, papers
VINTAGE THRIPLOW - classic cars, vintage tractors, engines
CRICKET PITCH - tea room, stalls, live folk music
CHURCH - display of records, display of kneelers, festival of flowers, bell ringing, organ music, church history talks, songs of praise
PLUS - Open gardens, tractor rides, dray rides and train rides
VILLAGE STALLS - Books, bric-a-brac, clothes, coffees, crafts, garden ornaments, gifts, jewellery, linens, plants and cut daffodils, sweets and much more!
How much?
Adults - £8
Children - £4
Under 5s - FREE