New £3.4 Million Critical Care Centre For Hinchingbrooke Hospital
5 June 2015, 10:15 | Updated: 5 June 2015, 10:42
"Investment will help move service from good to outstanding" says Chief Executive
Hinchingbrooke Health Care NHS Trust today unveiled its new £3.4 million Critical Care Centre (CCC), providing much larger and up-to-date facilities for critically ill patients in Cambridgeshire.

The new CCC supports patients with severe and life threatening illnesses who require constant close monitoring and medical treatment and care.

Patients will begin to be treated in the new centre from mid-June, moving from the current unit which is thirty years old. T

he centre, which increases the unit's size by 50 percent to over 1000m², was officially unveiled by Hinchingbrooke's CEO Hisham Abdel-Rahman and Jonathan Djanogly, MP for Huntingdon.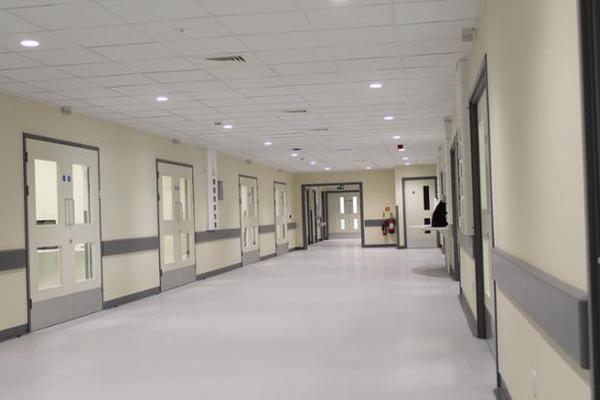 Hinchingbrooke will now be one of the few centres in the country to provide individual rooms for critical care patients. The new CCC will feature ten rooms, four of which will be isolation rooms for highly infectious cases, which will provide dedicated, private spaces for the most vulnerable patients in our care.

Chief Executive Hisham Abdel-Rahman said:

"The Care Quality Commission rated our Critical Care services as 'good' when they inspected the Trust last September. The new centre provides a very strong platform to make these services 'outstanding' which is absolutely where they need to be."

"The opening of the hospital's new Critical Care Centre marks the culmination of many years of planning. We are committed to being a top ten district general hospital and over the last six months we have started work on the Trust's £2.4m Macmillan Woodlands Cancer Treatment Centre, opened our new ENT and Audiology Department and a new CT scanner is being commissioned this week."

The new centre will offer significantly improved facilities for friends and relatives, including a relative's room with kitchen area and direct access to a private, outdoor area. There will also be a dedicated, confidential room to discuss patient care plans with healthcare professionals.

A new, clinical information system will be introduced as part of the new centre. This paperless system aims to eliminate the risks associated with traditional paper based documentation, resulting in improved patient safety. It will also support round the clock electronic charting of patient's care and treatment, continually capturing real time data from cardiac monitors and other medical devices, alerting health care professionals to a patient's condition.

Corin Prunty, Divisional Head of Nursing added: "I am delighted that the new Centre will offer much improved facilities for our critically ill patients, their families and our staff. As one of the only hospitals to offer individual rooms, patients and their families will benefit from more privacy and enhanced infection prevention.

"In addition to this, the Centre will benefit from a sophisticated lighting system, specifically designed to help reduce delirium which can be common in patients receiving intensive care treatment. There will also be much better facilities for our dedicated staff. These include a seminar room, increased storage and the addition of an on-call room to provide instant access to clinical expertise."