£5000 Goes To Local Causes In The Big Peterborough Giveaway
20 September 2017, 10:25 | Updated: 20 September 2017, 10:37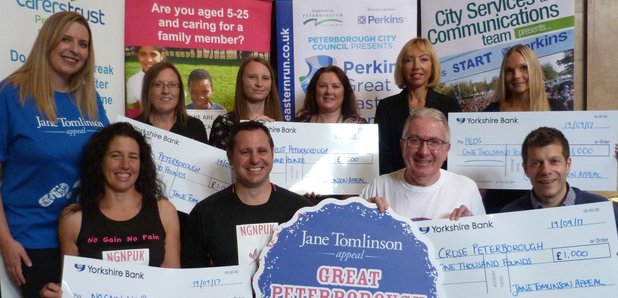 Five good causes in Cambridgeshire and Peterborough are better off to the tune of £1,000 each, after being picked from lots of nominations.
The Jane Tomlinson Appeal, who have teamed with Perkins Great Eastern Run for the second year in a row, handed over the money in Peterborough yesterday.
The charities chosen are:
* No Gain No Pain UK
* Personalised Eating Disorders Support (PEDS)
* Cruse Peterborough
* Inspire Peterborough
* Carers Trust Cambridgeshire and Peterborough
Lee Nicholls, of No Gain No Pain that raises money locally for palliative care provisions, told Heart: "Some of the equipment we need costs £1,100 each.
"We are extremely thankful to the trustees of the Jane Tomlinson Appeal for supporting our cause."
The Jane Tomlinson Appeal is the legacy left by brave Jane, who raised nearly £2million for children's and cancer charities while she was terminally ill.
Jane, who used to live in Peterborough, ran the London Marathon and took on triathlon and Ironman competitions besides cycling across America.
She lost her fight with cancer in 2007, aged just 43.
Kate Goldring is the Manager of the Jane Tomlinson Appeal. She said: "We were overwhelmed to see all the nominations - clearly a lot of great work takes place in the Peterborough community.
"For us, it's important to give back to the communities who support us and through our partnership with the Perkins Great Eastern Run; the people of Peterborough have done just that.
"We're thrilled to be able to support five fantastic causes in the area."
This year's Perkins Great Eastern Run, that continues to be supported by the JTA, takes place on Sunday 8 October.
Want to join in? There's still time! http://www.heart.co.uk/peterborough/events/2017-perkins-great-eastern-run/