6,000 Tonnes Of Waste Alight Near Huntingdon
13 April 2015, 06:17 | Updated: 13 April 2015, 10:09
Crews from Stanground, Whittlesey, Ramsey, Sawtry and Huntingdon were called to a fire at a recycling site off Biggin Lane, Ramsey Heights, yesterday afternoon.
A large quantity of organic waste was on fire at an agricultural recycling site. Multiple compost heaps were well alight within close proximity to an office building on the site.

Firefighters wearing breathing apparatus are using jets to protect machinery and prevent the fire from spreading.

The weather was currently hampering conditions owing to the strong winds.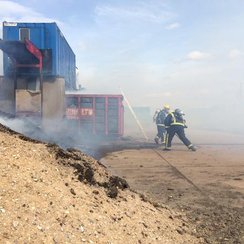 Nearby farms were also evacuated for the comfort of those people living in them.

Station Commander Kevin Napier said: "Crews were met with a fire involving about 6,000 tonnes of organic waste material which was well alight, and they are working hard to prevent the fire from spreading.

"We do not believe anything harmful is burning but for their personal comfort, we would encourage residents to close their windows and doors if they do encounter smoke in the nearby area.

"Firefighting operations will continue for a while yet and we are working with the owners of the site to make progress with the incident."
Update at 7pm:
Firefighting is continuing at the site to protect machinery/property but the fire is now contained.
It is anticipated the organic waste matter, which does not pose a threat to public health, will continue to burn for some time.
Three fire crews now remain at the incident, which is expected to be scaled down to two soon. We will be there overnight.
Advice to residents is still to close windows and doors if you are affected by the smoke plume.
Update 7am, April 13:
One fire crew has been at the site overnight. Defensive firefighting has continued through the night to protect machinery and building and to stop the spread of the 6,000 tonnes of organic waste.
Chatteris fire crew remains on site to monitor the incident until this afternoon when fire officers will meet with the land owners to discuss how to resolve the incident.
At present, the smoke is reduced and less dense compared with yesterday afternoon and with a reduced wind, should not affect a large number of residents.