A47 Bus And Lorry Crash - Victims Named
27 June 2018, 14:25 | Updated: 27 June 2018, 14:32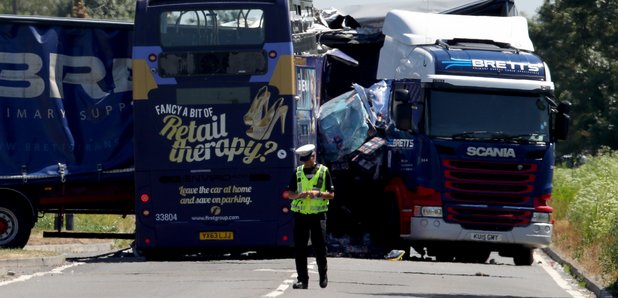 Police have named the two men who died in a collision on the A47 yesterday morning.
Michael Elcombe, 45, of Cley Road in Swaffham, Norfolk died when the bus he was driving was involved in a collision with a HGV at about 730am on Tuesday 26th June.

Brian Chapman, 76, of Cherry Road in Kettering, who was a passenger on the bus, also died at the scene.

In addition to the two fatalities, a further 17 people were injured as a result of the collision. Six received serious injuries and the remaining minor. The majority of the people injured were from Peterborough, with one from Hunstanton.
The collision continues to be investigated, but no arrests have been made.


FIRST BUS STATEMENT
Steve Wickers, Managing Director at First Eastern Counties buses today has said:

"It was a very sad day yesterday for everyone involved in what was a devastating incident on the A47 in Guyhirn. I, along with my local team would like to send our sincere condolences to the families, friends and colleagues who have lost a loved one from the incident and to extend my thoughts to those who sustained injuries, who I hope all have speedy recoveries.
I would also like to thank the Police and the Emergency Services for their support yesterday, in what was a very traumatic situation to manage.

Today has been a challenge, especially for the colleagues and friends of Michael our driver at Kings Lynn bus depot, who sadly lost his life. But as true professionals and as dedicated as they are, our drivers have all come into work this morning and are providing a full service for customers wanting to travel on our Excel service between Peterborough, Kings Lynn and Norwich"