Addenbrooke's Opens New Laser Eye Kit
20 September 2017, 15:27 | Updated: 20 September 2017, 15:33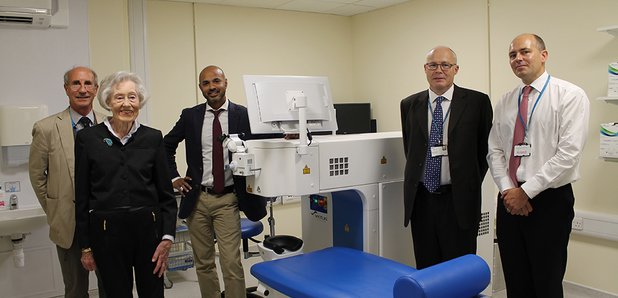 The first ultra-precision laser surgery eye service for NHS patients has been officially opened at Addenbrooke's Hospital.
The new Femtosecond laser, with its ultra-precision enables the ophthalmology team to manage a wider range of complex corneal and cataract disorders in a much less invasive way than it could with manual surgery.
Patients experience fewer complications, recover their eyesight faster and return home more quickly. Since the laser was introduced in 2016, over 500 patients have already benefited from this advancement.
Mr Madhavan Rajan, Consultant Ophthalmologist and Clinical Lead – Cataract and Cornea Service said:
"The Femtosecond laser, with its ultra-precision, is a game-changer for ophthalmic surgery. What takes 15 minutes to do by hand can be done in 20 seconds with the laser and with an accuracy and repeatability that hands alone can't match.
(Picture: L-R: Nicholas Sarkies, Ann Watson, Madhavan Rajan, Stephen Davies, Roland Sinker)