Cambs Ambulance Staff To Be Balloted Over Strike Action
16 May 2016, 10:18 | Updated: 16 May 2016, 10:21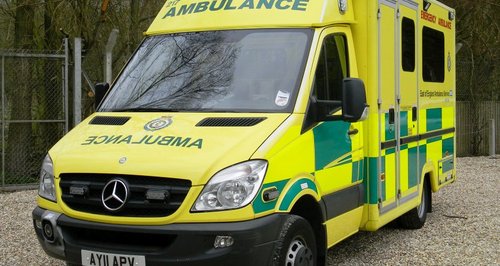 Front line staff at the East of England Ambulance Service are going to balloted about strike action over what has been described as "unacceptable working conditions".
The union Unison says it is concerned with "managers' failure to tackle the problem of excessive working hours and lack of sufficient breaks".
It claims in December 2015, nearly 3,000 shifts finished more than an hour later than planned and that rose to more than 3,600 shifts in January of this year.
In addition, Unison says staff regularly only end with a 30 minute meal break during their shifts when they are entitled to 45 minutes.
Unison branch secretary Fraer Stevenson said: "After a year of broken promises, our crews are still faced with unacceptable working conditions.

"Frontline staff are caring people, committed to providing excellent patient care but they're human beings too and they need to be cared for by their employer. Fifteen hour shifts with just a half hour unpaid break are now commonplace. Ambulance staff carry out life saving work in their communities and deserve better treatment.

"Theirs is already a stressful job, being made almost unbearable by the excessive working hours staff regularly find themselves working. No wonder so many have already left the service, and that many more say they want to quit.

"It's heart breaking to see front line staff working under such pressure and for the trust's board to be given repeated evidence of this - but fail to act. We have little choice now after over a year of many meetings and no meaningful action, than to consider industrial action.

"Frontline staff are held in high regard by the public, it's hard to understand why the ambulance trust is not showing the same level of care and support to its staff. But it's not too late for the trust to act. It's vital that safeguarding measures are put in place to better protect staff from these overwhelming pressures."
Unison says negotiations earlier this year did not result in any meaningful agreements with the ambulance trust. It says it is asking for "a 45 minute meal break, a 20 minute additional break later in the shift, and for crews to be able to return to base at the end of their shift and only be asked to attend the highest category of calls while en route".
In response, the East of England Ambulance Service said: "As pressure has increased on every ambulance service across England, so has the national challenge associated with reducing late finishes. While the Trust is currently developing a plan with Commissioners to address the capacity gap, the Trust does not currently have sufficient capacity to meet the ever increasing level of demand.
"Therefore, the most significant challenge associated with trying to reduce the frequency of late finishes for our staff is how to introduce any initiative that does not compromise our response to patients.
"In the meantime, the Trust continues to recruit more patient facing staff and has an ambitious plan in place to recruit hundreds more staff this year.
"This will build on the 750 student paramedics recruited over the last two years who are still completing their training and development.
"The Trust has been at the forefront nationally in working to identify solutions that seek to balance our desire to improve staff wellbeing by reducing late finishes whilst protecting patients. To this end, the Trust tabled a comprehensive suite of proposals with UNISON at the start of current discussions, with much positive feedback from staff.
"The Trust notes that the currently agreed 45 minute break is split into 30 minutes undisturbable and a subsequent 15 minutes in which crews can be asked to respond to patients whom are waiting on a response.
"While the Trust is supportive of improving meal break arrangements, removing calls from the disturbable 15 minute part of the current meal break would reduce our capacity to respond to patients and increase the potential for harm. This is why the package of measures put forward by the Trust, including improved meal breaks, aims to balance staff wellbeing and patient safety.
"Following a series of discussions, and taking into account feedback from staff both in our emergency operations centres and on the road, the Trust revised its proposals and presented these to UNISON on Monday.
"Following a further proposal from UNISON on Thursday the Trust has requested time to consider the impact of these new proposals on staff and patients, in particular the potential of delayed responses to patients. However, the Trust has agreed to progress with the intelligent x-ray proposal.
"The Trust is committed to working with UNISON to develop sound and sustainable working practices to ensure staff welfare whilst maintaining excellent patient safety.
"Both sides have been working incredibly hard to tackle this issue for the benefit of staff and patients. Whilst we are disappointed that UNISON has taken the decision to ballot staff, we would urge UNISON to take up our offer of approaching ACAS to facilitate a mediated and final joint resolution - tackling this issue for the benefit of staff and patients is vital and we must work together to make progress."