Lorry Crash On A14 Causes Cambridge Travel Chaos
29 July 2015, 07:28 | Updated: 29 July 2015, 09:56
Drivers on the A14 are being warned if they tried to film a two-lorry crash while driving past, they will be prosecuted.
The A14 has now reopened between Girton and St Ives.
The crash happened around 5am at Fenstanton. No-one was hurt.
Two lorries were involved in the accident, one jack-knifed.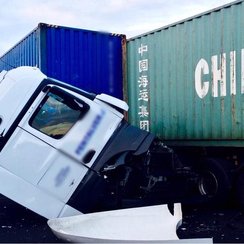 The Roads Policing Unit had warned drivers they needed to keep an eye on the road as they drive past in the opposite direction. On their Twitter account they said, "Motorists on A14 using mobiles to film the accident scene from the opposite carriageway while driving will face prosecution. #stupidity."
It's after seven serious crashes on the A14 on Monday afternoon. In one a lorry driver from Yorkshire was killed.