Bike Donations Soar For Huntingdonshire Community Project
25 January 2018, 07:02 | Updated: 25 January 2018, 07:23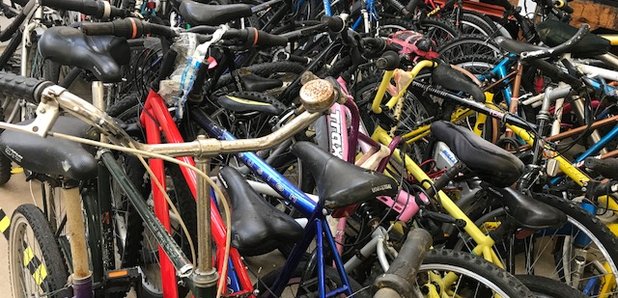 Ever wondered what happens to those abandoned bikes we see in Cambridgeshire and Peterborough?
They have been getting collected up by TAG Bikes in Huntingdon - a repair scheme that aims to give skills to people with learning difficulties.
Donations from across Cambridgeshire and Peterborough mean the team now has nearly 100 cycles to work on.
TAG Bikes, that is part of the County Council's "Supporting Into Work" programme, say the learners on their project are getting so skilled they can have a broken bike fit for the road again in two hours' time.
They have been overwhelmed by the community support they have received, having just had a donation of 40 bikes in one go from train franchise Govia Thameslink that runs our Great Northern service.
Bikes that had been abandoned, and never claimed, were gathered up from stations in and around the county.
That means TAG Bikes have had almost 150 donations in the first four weeks of the year alone.
Robert Bierton, who runs TAG, told Heart: "We are always extremely moved by the generosity and kind hearts that exist out there, especially in our region.
"The recent response we have received from media coverage has been astonishing and positively overwhelming, there has been a magical feeling in our workshop since.
"TAG Bikes has never been about financial gain but more directed towards our learners' development and getting our finished bikes back into new homes, without these donations we would not be able to do either."
Stuart Cheshire, who's from Govia Thameslink, added: "More and more people are cycling to our Thameslink and Great Northern stations because we've been putting in better facilities with new racks and CCTV.
"Surprisingly, some people do abandon their bikes so when we heard the plea to help this great Supporting into Work project, we got straight in touch.
"There's no better cause I can think of to benefit, and we're glad to help."
To find out more about TAG Bikes, visit their Facebook page: https://www.facebook.com/TagBikesHuntingdonCommunity/