Bourges Boulevard £4.5 Million Roadworks Are Finished
22 July 2015, 09:30 | Updated: 22 July 2015, 16:29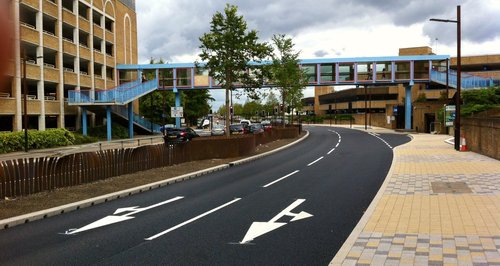 Works to transform Bourges Boulevard into a pedestrian and cyclist friendly tree-lined boulevard are now finished.
The scheme has widened the central reserve which is lined with a dozen lime trees, each up to 9 metres tall. In addition, there are now two 10 metre-wide pedestrian signalled crossings between Crescent Bridge roundabout and Bright Street roundabout to improve access to the city centre for pedestrians and cyclists.

New traffic lights are still being tested though, and some minor finishing works are being carried out until Friday.

Traffic from the railway station is now able to turn right out of Station Road for the first time with traffic lights introduced at the junction. The new sets of traffic lights on Bourges Boulevard will be closely monitored and may need to be adjusted next week to optimise performance.

The central reservation features specially commissioned artistic metal railings and planters. Their material and construction were inspired by the city's railway and engineering heritage and were manufactured locally by Darke Steel of Stilton.

Eurovia Contracting (North) carried out the project on behalf of the city council with the project costing in the region of £4.5million. The council's contribution to the scheme was approximately £1.8million after receiving £2.1million government funding and a S106 contribution of around £600,000 from Waitrose.

Works commenced in May 2014 although paused between November and the New Year to allow for the busy Christmas period. Works were also delayed for several weeks due to it taking longer than expected for Anglian Water to divert a large water main.

A new 30mph speed limit will come into force on Bourges Boulevard for the safety of pedestrians and cyclists, and due to the new road lay-out on the improved stretch of road. A 30mph speed limit will be enforced from around 100 metres north of the Bright Street roundabout (opposite the Volunteer Fire Station) and continue until the existing 30mph zone on Bourges Boulevard near Asda.

Simon Machen, corporate director for growth and regeneration, said: "I would like to thank Peterborough residents for their patience while we have completed this major project for the city. We have worked hard to complete the scheme as soon as we could and we have tried to minimise disruption by carrying out the major road closures overnight.

"This is about helping to unlock the growth potential of the city centre and creating better links for pedestrians and cyclists. The new pedestrian crossings are there to join-up the station side of the boulevard with the city centre, helping to bring forward the recently announced plans for North Westgate and Queensgate."

Councillor John Holdich, leader of Peterborough City Council, said: "This project is already bearing fruit with private investment on either side of the boulevard. The new Waitrose store is now well established and exciting plans have been submitted for new development and regeneration schemes. These improvements were needed but we understand they do cause disruption and frustration - but we do it because we believe they will benefit the city and those that live and visit here.

"We have a clear vision for Peterborough and this project, along with others taking place, will help to build a strong and prosperous city equipped for the future."