Breast Cancer Treatments In Cambridge To Be Tailored To Individuals
6 July 2015, 06:45 | Updated: 6 July 2015, 09:19
Women being treated for breast cancer in Cambridge could soon get treatments tailors epcifically to them.
Addenbrooke's Charitable Trust (ACT) is launching its Bracode Campaign today to support a pioneering research study which could make personalised breast cancer diagnosis and treatment a reality.

Cancer specialists at Addenbrooke's in Cambridge are among researchers who recently revealed that there are ten different breast cancer tumour types, rather than it being a single, uniform disease (1). The new five-year study will establish whether it is possible to translate that knowledge into the hospital setting and to improve our treatment strategies for each individual patient.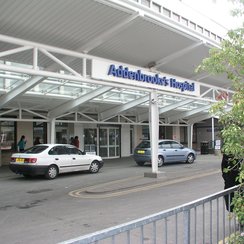 Dr Jean Abraham, Consultant in Medical Oncology at Addenbrooke's, explained: "It may be possible, if we understand the genetic changes that have taken place in each breast cancer patient, that we can make changes to their care to ensure that the treatment they receive is the most effective for them. But we need to investigate this in clinical practice. We need to know, for example, that the genes in patients' tumours can be sequenced quickly enough and at a cost acceptable to the NHS. We need to monitor, over time, which tumour types respond to which treatments so future patients can be spared those which cause more harm than good."

ACT has launched the Bracode Campaign, so called because changes in DNA can be regarded a little like barcodes. The campaign will support the five-year clinical research programme to which each of the 450 women and men treated annually at the hospital's Cambridge Breast Unit will be invited to take part.

Today, more patients survive breast cancer than ever before but, each year, around 50,000 women in the UK will be told they have breast cancer, with profound implications for them and their families. Breast cancer is common - one in eight women in the country will receive this diagnosis at some point in their life. Despite improved survival rates in breast cancer a significant proportion of women still have recurrence of their breast cancer.

Dr Jean Abraham explained why the Bracode Campaign is so timely:

"It is essential to carry out this research so we can assess whether it is feasible for personalised breast cancer care to be routinely implemented within the NHS, and beyond. Additional knowledge gained during this project may also help develop new treatments for some breast cancer sub-types."

Susanne Owers, ACT's Director of Fundraising said: "We have already raised £943,000 to initiate the project and to support research posts in the longer term. We now need £5,000 for each patient diagnosed with breast cancer to take part in the programme so we can sequence, assess and monitor their tumours."

To maximize on opportunities in support of this programme ACT is hoping to work in close collaboration with the University of Cambridge Development office.

The campaign is being launched with a video fronted by actress Patricia Hodge. The film's message is that there's no such thing as a one-size-fits-all bra and the same goes for breast cancer treatment.

Joy Martin is one of the Addenbrooke's patients who stripped down to her bra and jeans to take part in the video, and said: "Even though my hospital treatment has finished, it isn't over. Every day, I'm reminded when I take my medicine and when I see my scars. I'm supporting this campaign so women in the future can be more confident that they're receiving the best possible treatment for their particular cancer, so they can reconstruct their bodies and their lives as quickly as possible".