Bus Crash In Cambridge Wasn't Technical Fault
25 February 2016, 13:54 | Updated: 25 February 2016, 13:58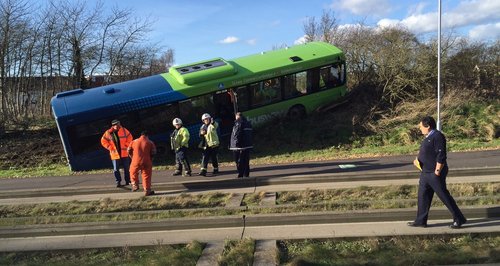 It's been confirmed an internal disciplinary process is underway after a guided bus crashed in Cambridge.
Two people were taken to hospital and three others were hurt after the vehicle crashed on to an embankment in Trumpington on Monday afternoon.
Stagecoach East says there's no evidence that there was any fault with the vehicle.
A spokesman said: "We can confirm that an internal disciplinary process is underway in connection with the incident on 22 February. There is no evidence from our investigation to date that there was any fault with either the vehicle or the guided busway infrastructure.
"Since the busway was opened in August 2011, our vehicles have operated around 8 million miles. The Cambridgeshire Guided Busway has been a resounding success, and is used by 3.5 million passengers per year. All of the evidence points to dedicated busways being significantly safer than standard roads. It is also a major advantage in attracting people to switch from their cars to greener, smarter and safer public transport.
"Nevertheless, safety is our absolute priority and we are never complacent. Any incident, whatever its nature, is fully investigated and any appropriate action taken. As always, our priority remains our passengers, including those affected by this incident. We are continuing to fully assist the relevant authorities with their investigation."