Cambridge-Developed Mindfulness App Is First To Give Feedback
27 October 2017, 08:40 | Updated: 27 October 2017, 09:41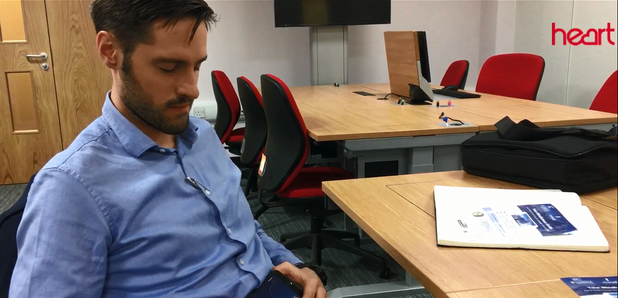 We're all about mindfulness these days, but how do we know if we're doing it right?
Life just seems so stressful and rapidly-paced; and it's hard to find time to focus on our own wellbeing.
Now, a new iPhone app, being developed in Cambridge, is able to tell us if we're relaxing properly.
Heart's been speaking to Dr Tom Mole, who's the psychiatrist behind "Mindz."
Dr Tom told us: "Meditation apps aren't anything new - but none of them feed back how you're doing.
"Mindz provides regular little sound bells to let you know you're on track, and gives you confidence to learn meditation properly - because it is a skill."
As to how Mindz works, you simply pop the iPhone on your abdomen and either sit or lie in a comfortable position. After choosing how many mindful breaths you want to take, you should tap the screen every time you inhale.
If you get it right, a bell will ring; and there will be tell-tale silence if you don't.
Dr Tom continued: "When I was working in the emergency department around five years ago, there were all sorts of 'beeping' technologies that gave me the inspiration for Mindz.
"There were some machines, blood-pressure monitors and the like, that could be picked up and used at any time of night. And there were some that were less reliable and would break on you.
"I wanted to build a really robust, rugged piece of tech that could be used in any situation, and applied to meditation."
Mindz is only available for Apple devices at the minute, but is being developed for Android in the near future.
It's had 350 downloads, and more than 10,000 mindful breaths have been taken since its recent roll-out!