Cambridge Rules, OK?!
13 May 2018, 10:04 | Updated: 13 May 2018, 10:08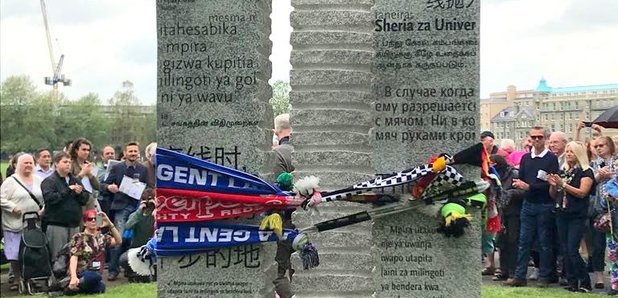 A sculpture marking Cambridge as the birthplace of the modern game of football has been unveiled in the city this weekend.
"Cambridge Rules 1848" is a public art commission from Cambridge City Council which celebrates how a simple set of rules written by university students, for a game of football played on Parker's Piece in Cambridge 170 years ago, has gone on to shape the development of the modern sport as a grown into a worldwide phenomenon embraced by diverse cultures across the globe.

It is inscribed with the original Cambridge Rules in many different languages and while four large etched stone columns will be installed in Cambridge, a further five will travel to Brazil, Kenya, China, India and Egypt as part of a cultural exchange.

Artists Alan Ward and Neville Gabie were commissioned in 2014 to create the sculpture and to develop an online archive of stories from football fans at www.cambridgerules1848.com to give a unique insight into what football means to people and how it has become the world's favourite sport.

"Through this commission, we've come across everyone from Porto fans in a Portuguese quarry and futsal players based in a Brazilian favela, to Galatasaray fans in a Cambridge school. All of them represent what this fabulous commission has been about – celebrating Cambridge's crucial role in the global spread of the game", said artist Neville Gabie.

"The sculptural piece will be a permanent reminder of the importance of Parker's Piece to football's story – but we're also really pleased that people around the world will also be able to understand just how important Cambridge is to the game they love", said artist Alan Ward.