Cambridge: Third Least Affordable City
27 March 2015, 07:07 | Updated: 27 March 2015, 07:17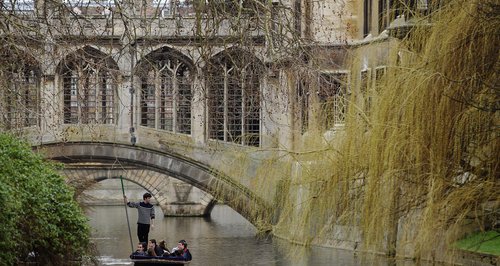 Cambridge has been named as the third least affordable city in the UK, with the cost of the average home now at its most unaffordable since 2009.
A report by Lloyds Bank has found Oxford is the UK's least affordable city, with the average house price standing at £361,469 - nearly 11 times the local wage.
In Cambridge, the average property costs ten times (9.76) people's wages.
Andy Hulme, Lloyds Bank mortgages director, said: "House price rises in the past two years have resulted in a deterioration in home affordability in the majority of UK cities, and generally widening the north/south affordability divide as the market has been strongest in the south.
"The UK's most successful cities economically have tended to see the strongest property price rises.
"Aberdeen, the country's oil and gas capital, has recorded the biggest gains over the past decade whilst London has been the top performer during the economic recovery."
Housing minister Brandon Lewis said: "Our efforts to get the country building again are working.
"Thanks to this Government's long-term economic plan, we have delivered 700,000 new homes since the end of 2009, planning permissions were granted on 253,000 new homes last year and we've delivered over 217,000 affordable homes since 2010.
"Our affordable housing programme aimed to deliver 170,000 homes from 2011 to 2015 and we are well on track to exceeding this.
"We're determined that anyone who works hard and wants to get on the property ladder has the help they need to do so.
"That's why over 204,000 households have bought or reserved a new home through government-backed schemes in the last five years, and we've announced a new Help to Buy Isa to help aspiring homeowners save for a deposit on their first home with contributions from the government.''
It's not all bad news for Cambridgeshire though - Ely has been named as one of the most affordable places to buy a home.
Here are the UK's 15 least affordable cities according to Lloyds, with the price to local earnings ratio:
1. Oxford, South East, 10.89
2. Winchester, South East, 10.11
3. Cambridge, East Anglia, 9.76
4. Chichester, South East, 9.19
5. Brighton and Hove, South East, 9.10
6. Bath, South West, 8.83
7. Greater London, 8.75
8. Truro, South West, 8.61
9. Salisbury, South West, 8.43
10. Exeter, South West, 8.04
11. Southampton, South East, 7.55
12. Bristol, South West, 7.02
13. Lichfield, West Midlands, 6.95
14. Norwich, East Anglia, 6.88
15. Canterbury, South East, 6.85
And the 15 most affordable cities:
1. Stirling, Scotland, 3.85
2. Londonderry, Northern Ireland, 3.92
3. Lancaster, North West, 4.03
4. Bradford, Yorkshire and the Humber, 4.17
5. Hereford, West Midlands, 4.42
6. Belfast, Northern Ireland, 4.49
7. Newry, Northern Ireland, 4.51
8. Salford, North West, 4.56
9. Lisburn, Northern Ireland, 4.63
10. Durham, North, 4.70
11. Stoke on Trent, West Midlands, 4.76
12. Sunderland, North, 4.78
13. Glasgow, Scotland, 4.81
14. Ely, East Anglia, 4.90
15. Hull, Yorkshire and the Humber, 4.96