Cambs Firefighters Thrill With New Halloween Video
24 October 2016, 16:21 | Updated: 24 October 2016, 16:29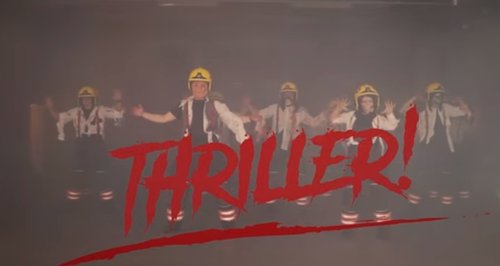 They're at it again! Do you remember last year when Cambridgeshire Firecrews recreated the Mary Poppins Step In Time roof-top dance scene?
This time last year, Black Watch recreated the famous rooftop chimney sweep scene to promote an important community fire safety message reminding people to get their chimneys cleaned before winter to prevent chimney fires.
Using a song from Mary Poppins, Step In Time, they filmed a choreographed dance on the rooftop of Cambridge Police Station with a firefighter Dave Wisbey dressed as Dick Van Dyke delivering the safety message at the end.
This year, the firefighters in Cambridge Black Watch have chosen to recreate Michael Jackson's Thriller video to promote safer Halloween costumes for children.
Dance teacher Megan Tupholme choreographed the video, which sees members of the watch, dressed as zombies, slide out of a drawer and from behind the door of a van to enter a smoke-filled station where they dance to Michael Jackson's Thriller song.
At the end of the video, firefighter Dave Wisbey once again dons his cap to deliver a safety message as Dick Van Dyke.
Safety advice includes
Only buy children's Halloween costumes from reputable outlets
Look for the CE safety mark on outfits
Never let children go anywhere near a naked flame
In the event of a costume catching fire remember to STOP, DROP and ROLL
TV Presenter Claudia Winkleman championed the cause for safer Halloween costumes last year after her then eight-year-old daughter was hurt when the costume she was wearing caught fire.
Following Claudia's high-profile campaign, several supermarkets and High Street chains agreed to increase fire safety standards on all their children's dressing-up ranges.
Crew Commander Jeff Whitlam said he came up with the idea for the Thriller video with firefighter James Ball after the success of last year's video.
"I think everyone is a bit of a Michael Jackson fan and we were buoyed by the success of the last video. Ever since then people have been asking us when we were going to do another one so this was a great opportunity to deliver an important safety message."
He said about six of the original watch are involved with this year's video, with rehearsals taking place during firefighters' lunch breaks.
CC Whitlam said:
"They're quite a special bunch as a lot of other watches wouldn't give their time like that for free. Some of the team were keener than others, some were very reluctant and we've got some who have found a little niche they didn't realise they had. Some of them enjoy it more than others while some of them had to be coerced but once they got started they really got into it. It's been really good fun. If you come to Black Watch you have got to be open to new things."
He said he didn't feel any pressure for this year's Thriller video to be as successful as last year's Step In Time chimney sweep video.
"The video is just an addition to what we do for our job. If it works really well then that's a bonus."
He added: "We've really enjoyed making the videos but I think now we've done two we might have to look at something a little bit different next time."
Several watch members who opted out of dancing to help with production instead include Jake Cucciniello who helped with filming as well as Crew Commander Kevin Andrews and Watch Commander Darren Thompson who helped direct.
CC Whitlam said the watch would like to thank Megan for her help choreographing the video and Leslie Symondson from Wardrobe Fancy Dress and Party for a discount on their spooky outfits.
See the video HERE