Cat Burnt With Hot Liquid In Huntingdon
25 April 2015, 05:29 | Updated: 25 April 2015, 08:14
The RSPCA is appealing for information after a cat returned back to his Cambridgeshire home with severe burns after it is suspected someone threw boiling water or other extremely hot liquid over him.
Ben, a two-year-old Ragdoll, was wet, in distress and with an obvious injury to his ear when he came back to his house in Coulson Way, Alconbury, Huntingdon on Tuesday 7 April, after being out all day.

He was taken to a vet who first suspected he had been in a fight until his fur was shaved to reveal an enormous scab caused by scalding all over his back, neck and head. The vet said he suspected these burns were caused by extremely hot liquid having been poured over him.

The tip of Ben's ear was so damaged by the scalding that it has dropped off, but otherwise he is making a steady recovery.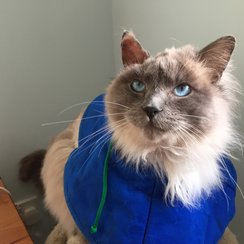 Owner Jeremy Lay said: "We were utterly shocked when the vet shaved Ben and we saw the horrible injury underneath. Before that it was just his head and ear which looked bad, we had no idea what was beneath his fur

"The scab was over more than a third of his body and was just so awful - he must have been in so much pain. The vet said a human with these kinds of burns would have been hospitalised.

"It just would never have occurred to me that someone could throw hot water over an animal like this - I have no idea what could go through someone's mind to do something like that. Ben is a typical ragdoll - a real softy - he could not have done anything to provoke I am sure.

"Luckily, he is making a good recovery, although will always wear his battle wounds. The tip of his ear just fell off, as the tissue was so burnt it died."

RSPCA inspector Carrie O'Riordan said: "These were absolutely horrific injuries which would have caused this poor cat an awful lot of pain.

"Unfortunately cats can be vulnerable to attacks simply because they are out there in the open, but this is the first time I have known one who has had boiling water thrown over him like this. It is a completely unacceptable way to treat an animal and I do wonder if whoever did this really thought about how much damage they were causing.

"We urge anyone with any information about this incident to call us, in complete confidence, on 0300 123 8018."