Coton Violent Burglars Jailed For Forty Years
2 December 2016, 12:57 | Updated: 2 December 2016, 13:05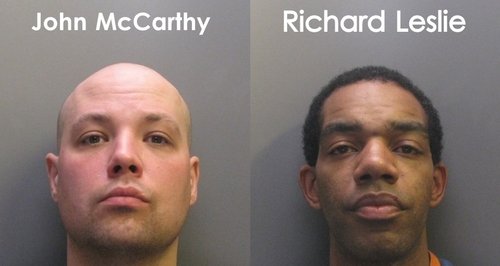 Two men have been jailed for a total of 40 years for the violent burglary of an elderly couple in the home in Coton.
John McCarthy, 35, of Greystoke Court and Richard Leslie, 37, of Hatherdene Close, Cambridge were handed a 20 year sentence each at The Old Bailey today (December 2).

The pair, armed with a sledgehammer and a crow bar and wearing white 'boiler' suits and balaclavas, smashed their way into a property in Madingley Road, Coton at about 10pm on November 29, 2014.

They proceeded to subject the two elderly residents to a sustained ordeal, during which they were bound with gaffer tape and assaulted: the female victim had her toe and teeth broken by one of the offenders during the attack.

The victims were then locked in a room, from which they eventually managed to escape some hours later.

McCarthy and Leslie were both found guilty of aggravated burglary following a trial in July.

Detective Inspector Alan Page, from the Bedfordshire, Cambridgeshire and Hertfordshire Major Crime Unit, said:
"I welcome the sentences passed today. This was a truly despicable crime committed against two elderly vulnerable victims.
Those who commit this type of crime need to realise that we will leave no stone unturned in the fight to bring to justice those responsible."
FAMILY STATEMENT FROM VICTIM'S DAUGHTER
"The horrific details of the crime have been laid out unsparingly in the course of the trial and the monetary loss has been tallied.
What hasn't been said is the personal loss my parents have suffered and continue to suffer; their loss of their sense of security, the loss of their retirement dreams, the loss of precious memories; as family heirlooms, medals, wedding gifts and other irreplaceable mementoes, collected over generations, were melted down to their constituent metals and sold for scrap.
Their loss of their ability to get a full night's sleep; both nearly 80-years-old, they literally barricade themselves in their bedroom as soon as it gets dark. They are easily startled and wake up in a cold sweat most nights, haunted by the memories of their ordeal. Too scared to accept invitations to go out, even from old friends, they've become socially isolated.
As a consequence of all of this their health has declined at an alarming rate and my mother now views mealtimes as a misery; having needed to undergo the painful removal and replacement of all the teeth on one side of her jaw, because her own were badly cracked from blows to her face.
As a family our lives have been irreparably changed as a result of these men's actions. I can only hope that they lose their liberty for a long time because my parents have already received a life sentence."