Custom Skates stolen in Peterborough Burglary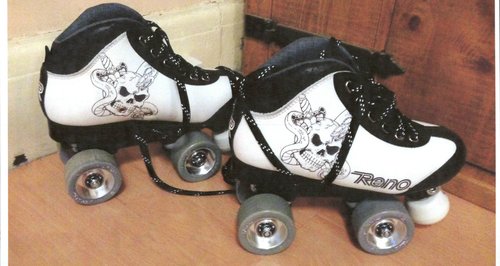 A pair of custom roller skates have been stolen in a burglary in Peterborough.
It happened early on Saturday morning while the woman was asleep in her home in Eye Road, Dogsthorpe.
The skates are black and white with a skull and dagger design on them - they're worth about £420.
A laptop, iPod Nano and Nintendo DS were also taken after being left in the kitchen-diner.
The laptop has an orange hedgehog sticker in a corner of the keyboard as well as a pink fairy sticker.
The iPod Nano and Nintendo DS are both white.
Police think whoever broke in may have got in through an unlocked patio door.
DC Gurdev Singh said: "The roller skates are very distinctive so I would urge anyone who knows of their whereabouts or has been offered them for sale to contact police.
"I would advise members of the public to double check all doors and windows are secure before heading up to bed at night, even if they think they have locked them, especially while the weather is warm as it is easily done to close doors but not lock them."
Anyone with information should contact the burglary squad at Thorpe Wood by calling 101 or Crimestoppers, anonymously, on 0800 555 111.