Deaf Man From Peterborough Left For Hours In A&E Because Of No Professional Interpreter
23 November 2017, 07:55 | Updated: 24 November 2017, 08:50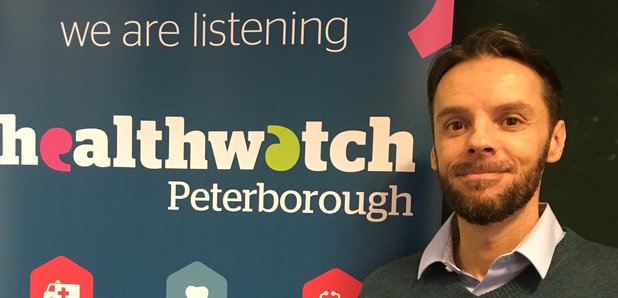 A long wait in A&E is bad enough - but what if there was no one to understand your needs when you got there?
This happened to Jason Sharpe, from Peterborough, when he developed a serious lung condition.
Because he's deaf, and only speaks using British Sign Language, he was left struggling back in May when the NHS hospital couldn't provide a professional interpreter for him.
Waiting and fretting, Jason knew it was an emergency, and was something to do with his lungs - but that was as far as it went.
Jason, who works with deaf people in Cambridgeshire and Peterborough, spoke to Heart through an interpreter.
He told us: "I'd been for a doctor's appointment, and was able to book an interpreter to come with me. But when the doctor sent me to the walk-in centre, the interpreter had to go to other appointments.
"The only people they could find for me in A&E were: a nurse who'd only learnt BSL Level 2, and a long time ago - and my own brother-in-law. They called him because he's on my list of emergency contacts. But he's deaf too, and doesn't have interpreting skills! It was totally inappropriate."
Jason was suffering from a pneumothorax blebs - a hole in his lung, that had caused it to collapse. He was shown his lung x-ray by the doctor -but without a deeper understanding, there was no way of getting his consent to treat him.
Finally, after more than five hours of waiting, a professional interpreter was found.
Jason added: "If I were to wait an hour for an interpreter, I'd expect that and I'd be ok. But more than five hours? All that time, I was anxious; worrying. I kept asking myself: 'what's going on, and what's wrong with my body?'
"I just want the same service as a hearing person. It should be quick, smooth service that's effective - not constant barriers and delays.
"When the interpreter finally arrived, I asked why they kept checking my blood pressure. They explained that it was because my heart was having to work extra hard, which was quite risky. It could have been really quite dangerous, thinking back on it now.
"Imagine if there had been an interpreter from the start. We could have got the procedure done quickly, but I couldn't consent because I didn't know what was going on. Nurses, GPs, everyone needs a little bit of training."
It comes as Healthwatch Cambridgeshire and Peterborough released a report into Accessible Information as Standard - that wants to make sure anyone with sensory impairments or learning difficulties gets information communicated to them clearly and professionally.
The Accessible Information Standard has actually been in effect since August 2016, and it is a legal requirement.
But, after speaking to more than 180 people in Cambridgeshire and Peterborough who are registered disabled, the feedback was not good.
Deaf people reported being treated less well than those who can hear; and those who need texts in large print said they were not always available.
Sandie Smith, who's Chief Executive of Healthwatch Cambridgeshire and Peterborough, told Heart: "If people can't understand what they are being told about their health or care, they haven't lawfully given their consent to any treatment or change in their care arrangements.
"Not being able to understand what you are being told also makes it much harder for you to manage your health and follow any treatment or care guidance.
"We know that people with sensory and learning disabilities routinely have poorer health and often don't live as long as the general population."
For more information, visit: http://www.healthwatchcambridgeshire.co.uk