Developers Get Skates On For New Cambridge Rink
28 November 2017, 18:42 | Updated: 28 November 2017, 18:49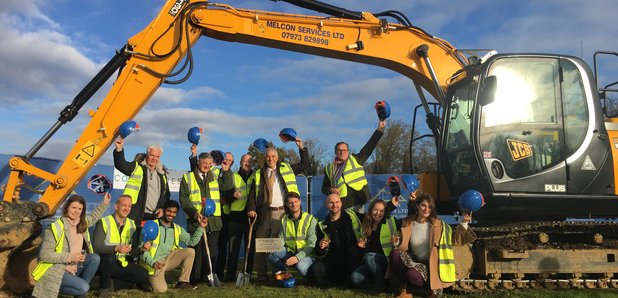 We've waited 20 years for this... but the ground-breaking ceremony has been held to mark the official start of building work on a new, permanent ice rink on the edge of Cambridge.
The start of construction, near the Newmarket Road Park & Ride, is a key milestone in the search for a suitable place to build it, and available land for it.

South Cambridgeshire District Council said:
"SCDC is providing a £1.85m loan to Cambridge Leisure and Ice Centre (CLIC) for the new venue, which will be on land leased by Marshall of Cambridge.

Construction work will now commence, with CLIC and their development partner Cool Venues anticipating a completion date of autumn 2018.

The new rink will boast a 340-seat arena, with room for several hundred more standing spectators, and be one of the most energy efficient ice rinks in the UK.
Ice hockey, ice dancing and speed skating

The 56m x 26m ice pad will meet the requirements of the International Ice Hockey Federation, allowing visiting teams from around the world to play ice hockey.

Activities on offer in the arena will include figure skating, ice hockey, ice dancing, speed skating and ice discos, as well as may other events for people of all abilities and ages.

The community nature of the new rink is being highlighted by CLIC and operator GLL, who plan to offer time on the ice out to local schools for use during physical activity classes.

They also hope to run polar educational campaigns by tapping into Cambridge's status as the major ice research centre of Europe.

The Council loan, which was the last piece of the funding jigsaw that allowed building work to start, makes sound financial sense for taxpayers as it will generate a return that will be re-invested into providing services for residents."

Councillor Simon Edwards, South Cambridgeshire District Council's Cabinet Member for Finance, said:
"It was fantastic to be on the site where this time next year we should be skating, so I'd better get practicing now! As a Council, we can borrow funds at preferential rates, so it made sense for us to do that, and then pass the money onto CLIC to get this project off the ground.

With the premium we've added to the borrowing rate that CLIC will repay, we're safe in the knowledge that it'll generate a return for us to re-invest in services for residents.

It was also brilliant to hear how much of a community hub CLIC and operator GLL want this new facility to be. I've no doubt that residents from across South Cambridgeshire will be looking forward to tying up their ice skates and taking full advantage of having a world-class facility like this on their doorstep."

Professor Bill Harris, Chairman of CLIC, said:
"20 years of campaigning for this community ice arena, which will be home ice for the Cambridge University Ice Hockey team, one of the oldest ice-hockey clubs in the world, has been one of the great rides of my life.

I am so happy that we have reached this point, and it is thanks to the tireless work and generosity of scores of like-minded people in many sectors of the greater community who appreciate the multitude of benefits that such a facility will bring to Cambridge. I now can't wait for its doors to open in the autumn!"