Digging Starts To Find Remains Of Huntingdon Man Killed 25 Years Ago
14 April 2015, 16:18 | Updated: 15 April 2015, 06:40
Police investigating the cold case murder of Andrew Bedford have begun new searches on ground near Ramsey.
Experts are helping officers and forensic teams examining an area off Stocking Fen Road.

The dig is expected to last for the rest of the week.

Operation Ongar was launched on Friday (April 10) by the Bedfordshire, Cambridgeshire and Hertfordshire Major Crime Unit.

It hopes to bring to justice anyone involved in Andrew's death nearly 25 years ago.

Detective Sergeant Gordon Blair said:
"New intelligence has allowed us to pinpoint this area as a viable place to search with a view to recovering potential evidence.

This could include evidence of how Andrew was killed or where his remains are today.

We have technology available that was not at the time of the original investigation, including a device being brought from Cranfield University which can identify disturbances in earth."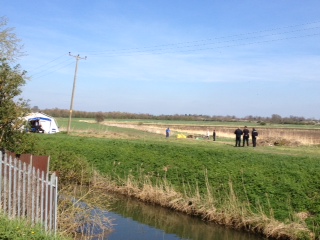 The last confirmed sighting of Andrew, 27, was at 6.20pm on Friday, September 28, 1990, at Factory Bank, off Great Whyte, Ramsey. He was seen in a light blue Ford Cortina estate car eating some takeaway food, possibly fish and chips.

Andrew, of Tweed Street, Huntingdon, was wearing overalls, a khaki jumper, jeans and trainers and was described as 5'8", of medium build, with mousey blond, curly, shoulder-length hair and various tattoos.

Despite a huge police inquiry, which included extensive searches by helicopter and specialist divers, a nationwide poster campaign and a reconstruction on Crimestoppers, no trace of Andrew was found.

Three people were arrested but released without charge.

Detectives believe Andrew, who was a reported missing by his girlfriend on Saturday, September 29, 1990, was killed the evening before with a shotgun at a garage called Mongrel Cars, which no longer exists, in Ramsey.
The prime suspect for the shooting is now dead but others who were involved have never been brought to justice.

Det Sgt Blair said: "We hope that 25 years on, anyone who knows anything about Andrew's disappearance will find it in themselves to come forward.

"No unsolved crime is ever closed. Where there is an opportunity to bring those who have escaped justice to account we will."