Dog Left For Two Days In Hot Van In South Cambridgeshire
17 April 2015, 09:59 | Updated: 17 April 2015, 12:04
A dog has been rescued from a hot van, in South Cambridgeshire, after being stuck in there for two days.
Police were called at about 2.30pm on April 16 to a report that a van had been left at Norman Way industrial estate, Bar Hill, for two days, after local employees become aware of a dog inside.

Local enquiries were made to no avail, so due to the warm weather and the lethargic condition of the dog, PSCO James Fuller broke one of the van's windows to allow air to circulate and get water to the dog.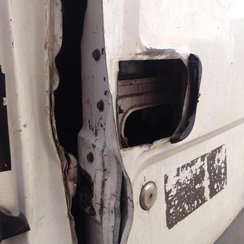 A Tri-force dog unit was also called asses the dog and provide assistance due to the breed; a Dogue de Bordeaux.

The dog was seized under the Animal Welfare Act and taken to vets for care.

The RSPCA are now investigating.