Drink Driver Who Crashed In Peterborough With 19-Month-Old Son In Car Jailed
10 April 2017, 14:05 | Updated: 10 April 2017, 15:09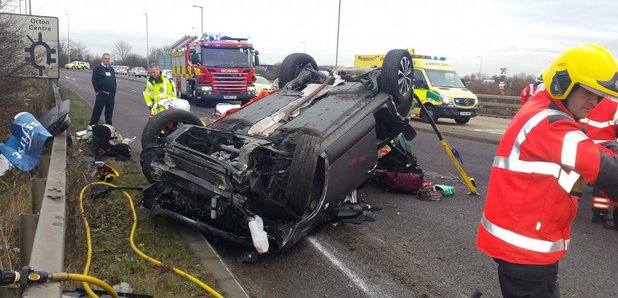 A drink-driver who launched her car in the air after failing to negotiate a roundabout has been sentenced for two driving offences.
Tania Chikwature, 32, of Butterfly Way in Coventry, was driving her grey Nissan Qashqai on the A606 in Peterborough with her 19-month-old son in the back at about 11.40am on December 12 when the collision happened.
Having overtaken a lorry on the wrong side of solid white lines near to Hadden Services, she failed to negotiate the roundabout, launching her car about 15 feet in the air, before landing on its roof on the far side of the roundabout, colliding with the crash barrier and coming to a stop about 50 metres further up the road.
Members of the public went to their aid and pulled the toddler, who was hanging upside down in his car seat, out of the wreckage.
Police and ambulance attended and Chikwature refused to provide a routine breath sample.
Four and three-quarter hours later in hospital, a blood sample was taken which showed 156 milligrams of alcohol in Chikwature's blood - the legal limit is 80.
Due to the amount of time that had passed since the collision, investigators requested a back-calculation was carried out by the forensic laboratory in order to accurately reflect the true alcohol levels at the time of the collision. The results came back with 246 milligrams of alcohol in her blood - more than three times the legal limit.
PC David Tudman, from the Beds, Cambs and Herts Road Policing Unit (RPU), said: "Chikwature showed complete disregard for the safety and welfare of her child and other road users in her manner of driving. It is pure luck that nobody was killed that day. This should serve as a warning to all motorists to highlight the dangers of driving while under the influence of alcohol; and to do so whilst in charge of a child is utterly irresponsible."
Chikwature appeared at Peterborough Magistrates' Court today (Monday, April 10) after pleading guilty to dangerous driving and driving while under the influence of alcohol at a hearing last month. She was sentenced to 26 weeks in prison and ordered to pay a victim surcharge of £115.