Dumped Kittens Taken In At St Neots Rehoming Centre
24 April 2015, 16:08
Seventeen kittens and seven cats found dumped by the road - are being looked after by a cats home in St Neots.
On the 16th April, the St Neots Cats Protection centre say they had a call from a lady who was driving on the main road between Everton and Sandy.

Up ahead she saw a car pull over, drop some boxes off and drive off. The lady was concerned so stopped by the taped up boxes to hear meowing. Inside she found 5 nursing mums and 17 kittens.

Sadly 5 of these kittens had passed away. The centre took the cats and kittens into their care, and say they will look after them until they can find them all loving homes.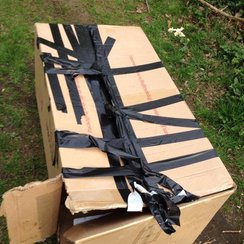 When they were found it was thought some of the kittens were only a day or son old.

Since they were rescued, one of the adult cats has given birth to two kittens and another cat looks due to give birth any day.

Sadly one of the hand-reared kittens passed away. The other kittens are all doing well. A mum cat and her four kittens, as well as two adult cats, have been taken into the care neighbouring Cats Protection Bedford & Biggleswade Branch.