East: Ambulance Board Member Quits
26 June 2013, 14:54 | Updated: 26 June 2013, 15:14
A board member of the East of England Ambulance Service has stepped down.
Five Non-Executive Directors have been under pressure from the region's MPs to quit, following a Parliamentary debate yesterday (Tuesday).
The trust has faced months of criticism following poor response times.
It has also been accused of failing to listen to staff.
In a statement, The East of England Ambulance Service said: "At today's public board meeting of the East of England Ambulance Service NHS Trust, new Chair Doctor Geoff Harris announced that he had received and accepted the resignation of Caroline Bailes.
Caroline, who has been a Non-Executive Director of the Trust since 2006, was due to step down from her role at the end of July when her term of office finished.
She is leaving to enable her to focus more of her time on work matters away from the ambulance service."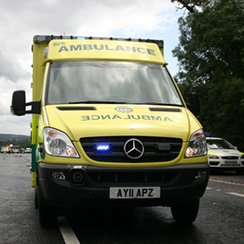 Dr Harris said, "My top priority is reviewing the capability and capacity of board leadership at the Trust.
As a result I have accepted Caroline's decision to resign as part of my remit to reconstitute the board.
At the same time, we must remain focused on improving our services to patients and delivering the turnaround plan."