Emu Found 'Wandering' Near Newmarket
17 August 2015, 11:56 | Updated: 17 August 2015, 12:17
The RSPCA is appealing for information about who may own an emu found wandering up a farm driveway near Newmarket.
The large bird, nicknamed Eric, is not native to the UK and it is thought he is probably an escaped exotic pet. We are keen to return him to his owner if they can be traced.

He was discovered by a member of the public on The Street in Kirtling on Saturday evening (15 August), and was kept in their stable overnight.

The bird is now in RSPCA care and appears to be in good health.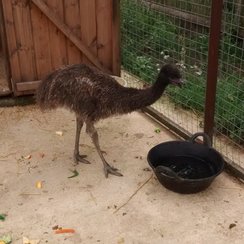 RSPCA Animal Welfare Officer Jane Folly said: "This must have been quite an unexpected sight for the member of the public - not the sort of animal they normally see walking up their driveway.

"Birds this large can be difficult to catch so we were lucky in this case that he could be secured in the stable. The fact that he is this tame makes me think he is very likely to be someone's missing pet.

"We urge anyone who knows where he may have come from to call us on 03001238018. We would love to take Eric back home."