Entrepreneurs Helped In Cambridge
25 June 2015, 06:00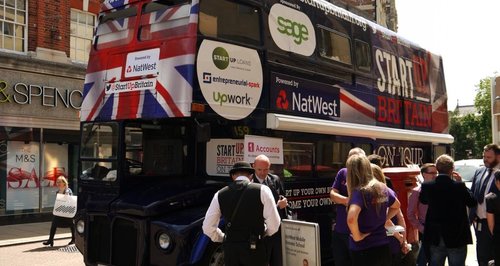 Budding Lord Sugars have been helped in Cambridge as a national programme to help new business start-ups has rolled into town.
The StartUp Britain tour is visiting 23 cities in a branded Routemaster bus promoting and supporting entrepreneurship after the programme was relaunched in Downing Street this week by the Prime Minister - and arrived in Cambridge yesterday.
StartUp Britain is a national campaign "by entrepreneurs for entrepreneurs, harnessing the expertise and passion of Britain's leading businesspeople to celebrate, inspire and accelerate enterprise in the UK."
Those behind the programme say they're truly passionate about promoting entrepreneurship and its benefits to the economy and they do that by highlighting the support available to those who wish to start or grow a business, galvanising support where we see a demand and by acting as a voice for small businesses to Government.
Find out more here: http://www.startupbritain.org/
StartUp Britain director, Matt Smith told Heart: "Since the programme began in 2011 we've seen record breaking numbers of people each year starting businesses, showing that the entrepreneurial spirit within Britain continues to grow.
Since the campaign launched, startup rates have increased from 440,600 in 2011 to a record breaking 581,173 in 2014."
At the launch on Tuesday, surrounded by entrepreneurs, David Cameron announced the 30,000th recipient of a loan from the government backed Start Up Loans company, hitting a target set when the scheme began three years ago.
43 loans have been made to individuals in Cambridge and 2,006 loans, worth £9.31m, to people across the East of England region during this period.