Firefighters In Cambridgeshire Need More Help Getting To Flooding Calls
22 July 2015, 05:45 | Updated: 22 July 2015, 05:51
The Fire Brigades Union in Cambridgeshire are calling for urgent action to tackle the soaring number of flood related emergencies they are being asked to respond to.
Firefighters attended just twelve flood emergency calls, out of 54 between midnight and 5am last Friday (17 July) due to the fire and rescue service being forced to prioritise "life risk" calls over risk to property. This is despite the Fire and Rescue Services Act outlining the necessity for protection of both.

The Fire Brigades Union (FBU) in Cambridgeshire say that key factors behind the failure to attend 42 flooding emergency calls are due to cuts to resources and the absence of a budget for flood response.

Cameron Matthews, brigade secretary of the FBU in Cambridgeshire, said: "It beggars belief that in 2015, despite the expectation of politicians and the public, there is still no statutory duty for the fire and rescue service, and no government budget issued to the service, for flood rescue. The UK fire and rescue service is in chronic need of investment, not more cuts.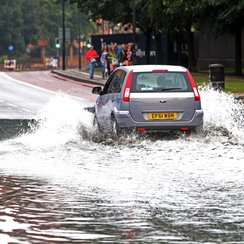 "The expectation from government that firefighters are expected to make adequate rescue arrangements with already slashed budgets is totally unrealistic. The result is that we end up with a situation like early Friday morning where members of the public are left stranded with potentially increased property damage due to the fire and rescue service being forced to prioritise.

"This situation is not going to go away, no matter how deep the government buries its head in the sand. The Environment Agency projections make it very clear that the people of Cambridgeshire and the South East of England are very likely to be at increased risk of flooding over the next decade.

"We urgently need the budget to make suitable preparations and not get caught out by these entirely foreseeable circumstances. We urge government to stand up, pay attention and act on this issue now for the safety of our communities."

Cambridgeshire Fire and Rescue Service Chief Fire Officer Graham Stagg said: "In spate flooding conditions, like those experienced last week, we will provide a prioritised emergency response to incidents where there is a risk to life. Despite not having a statutory duty, we are an emergency service and do what we can to help members of the public during flooding incidents.

"Our Control staff are well trained to handle the increased number of calls and have well-rehearsed procedures to prioritise those incidents to ensure we respond to those that need us the most."