Five Men Convicted For Cambridge ATM Raids
28 February 2015, 07:31 | Updated: 28 February 2015, 09:13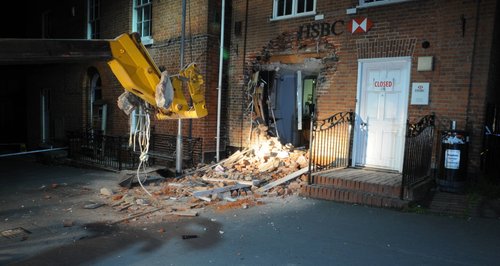 Five men have been convicted of a string of ATM ram raids and burglaries, including some in Cambridge.
More than £400,000 was stolen and £250,000 of damage caused in the raids at 12 banks across and six burglaries in a nine-month crime spree.
Joseph Upton, John Smith, Albert Smith, John Christopher Smith and Alfred Stanley used JCB vehicles to smash into businesses before ripping out cash machines.
They also used cutting equipment to help themselves to more cash and escaped in vehicles they had plundered in burglaries across the region.
In total, they got away with £301,560 from cash machines and stole cars and jewellery worth more than £100,000. The offences took place across Lincolnshire, Norfolk, Cambridgeshire and Suffolk.
Four of the gang (all except for John Christopher Smith) had each been jailed for 10 years in 2013 for a violent robbery at an isolated farmhouse in Bedfordshire during October 2012.
The Eastern Region Serious Operations Unit had brought the four to justice for that incident and, after they were convicted, began investigating the four for further offences.
Upton, 43, of Murrow Lane, Parsons Drove, Wisbech, Cambridgeshire, John Smith, 39, of Small Lode, in Upwell, Cambridgeshire; Albert Smith, 38, of Common Road, in Potton, Bedfordshire; Alfred Stanley, 37, of Sandon Close, in Sandy, Bedfordshire, all pleaded guilty to conspiracy burgle and conspiracy to steal motorvehicles between January and October 2012.
John Christopher Smith, 23, pleaded guilty to conspiracy to burgle.
They will be sentenced at a later date.
Detective Sergeant Stuart Dolan said: "This was an organised gang who targeted homes in order to steal vehicles to ultimately use as getaway vehicles after smashing into shops and banks to steal ATMs.
"They caused misery for the burglary victims as well as causing a huge amount of damage to shops and banks across the region."