Full Steam Ahead: Flying Scotsman To Run From Ely To Norwich
18 October 2017, 08:36 | Updated: 18 October 2017, 10:18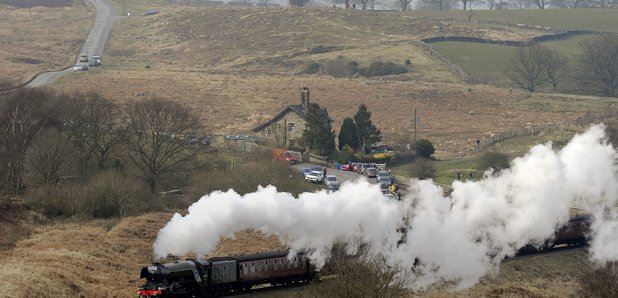 Not much gets the nostalgia pumping like the Flying Scotsman!
The celebrity steam train is chugging through Cambridgeshire later, as it needs to get to from Peterborough to Ely station to pick up passengers.

From Ely, there will be a steady run across the Fens to Norwich, for those lucky enough to have tickets.

Because of the frenzy the engine creates, we're being asked to view it safely.

Both British Transport Police, and tour operators Steam Dreams, say onlookers should stand at a safe vantage point, and not go down onto the tracks.

In previous years, huge delays were created for mainline trains because of trespassers.
Similarly, drone flyers are being urged to be sensible if they're going to try and capture some aerial footage of the steam train later.

Neil Skull, who has a drone licence and has been flying model aircraft for years, told Heart: "It's common sense that you don't fly over the top of houses, people, or engines, unless you're a trained, licensed pilot.

"Any time someone uses a model aircraft in a way that's dangerous, or irritates people, it gives the community a bad rap."

* Will YOU be on the Flying Scotsman later? Or will you be watching it from the sidelines? Send us your photos, video and reaction!