Have Your Say On Potential New Busway For West Cambridge
13 November 2017, 16:00 | Updated: 28 November 2017, 09:36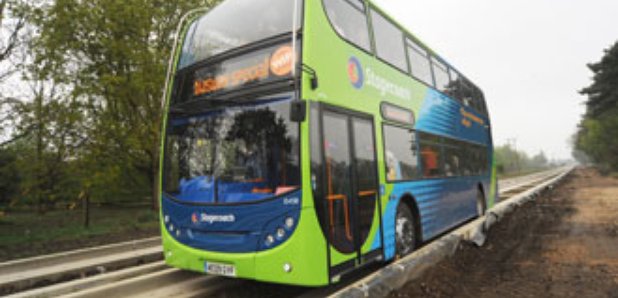 It's the Marmite of Cambridge - but no matter if you love or hate the Guided Busway, the Greater Cambridge Partnership wants to hear YOUR views on proposals for a new one.
They're looking at linking the west of Cambridge to the city centre, and providing a new park-and-ride in Cambourne.
Two of the three proposals for the idea, that wouldn't become a reality until

2024

, involve going on existing roads.
A third option would see something similar to the St Ives Busway in place - where buses would skip across the countryside and avoid the roads altogether.
Chris Tunstall, who's the Director of Transport at the Greater Cambridge Partnership, told Heart: "With 8,800 new homes planned in communities along these roads by 2031, demand for commuting trips to the city are expected to grow by up to 30 percent.
"It's our children we have to think about as well - they'll be the ones needing to get around in 2031."
The Cambourne to Cambridge scheme will host 18 public events from now 'til Christmas, where you can have a closer look at the plans and what they might mean for you.
Madingley Road Park & Ride 7:00am – 8:30am
Madingley Village Hall 5:00pm – 7:00pm
Cambourne Village College 12:00pm – 2:00pm
The Vine Inter-Church Primary, Cambourne 2:30pm – 4:00pm
Papworth Hospital 12:00pm – 2:00pm
St Neots Market Square 9:00am – 11:00am
Tesco, St Neots 12:00pm – 2:00pm
Hardwick Primary School 2:45pm – 4:30pm
Cambridge Market Square 10:00am – 2:00pm
Trumpington Park & Ride 7:30am – 8:30am
Tesco, Bar Hill 12:00pm – 2:00pm
Hauser Forum, Cambridge 4:00pm – 8:30pm
Cambridge Biomedical Campus 11:30am – 1:30pm
Coton Primary School 6:00pm – 8:00pm
Comberton Village College 2:30pm – 3:30pm
St John's College School, Cambridge 3:00pm – 4:00pm
Cambridge RUFC 10:00am – 12:00pm
Cambridge Belfry Hotel, Cambourne 4:00pm – 8:30pm
To fill in the public consultation survey, go to: www.greatercambridge.org.uk/cambournetocambridge