Homophobic Leaflets Delivered In Peterborough
11 March 2015, 12:57 | Updated: 11 March 2015, 12:58
Leaflets, describing homosexuality as disorder, and a destructive way of life - have been delivered to homes in Peterborough.
The homophobic flyers have been delivered this week and last week.
Matthew Debarr, who's 28, lives in Peterborough. He got one of the leaflets yesterday.
"I was just at home when I got the leaflet.
"It references homosexuality, it calls gay people 'perverts'.
"My conern was it was a targetted towards me personally, as I'm in a gay relationship, but I like to believe it was just random.
"It was a shock. I spent the evening wondering whether I should ring the police to make sure I'd be safe."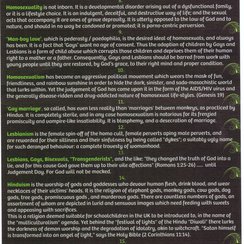 Police say they arrested a 53 year-old man from Corby yesterday (March 10) on suspicion of a section 5 public order offence.

He has been bailed until March 22 to return to Thorpe Wood; on condition of not returning to Cambridgeshire, unless to answer police bail.

The arrest followed complaints received from concerned members of the public about flyers they received on March 3 and March 10, 2015.

Detective Inspector Rich Sinclair, said: "Peterborough Hate Crime Team have arrested and interviewed the man in question and he has been released on conditional police bail, whilst the Crown Prosecution Service assess the evidence in relation to potential charges.

All hate crime is taken with the utmost seriousness and we continue to work with partners and community groups to stamp out racist, homophobic and prejudiced behaviour of any kind."