Illegal Punts Sunk In Cambridge
25 May 2018, 16:27 | Updated: 25 May 2018, 16:30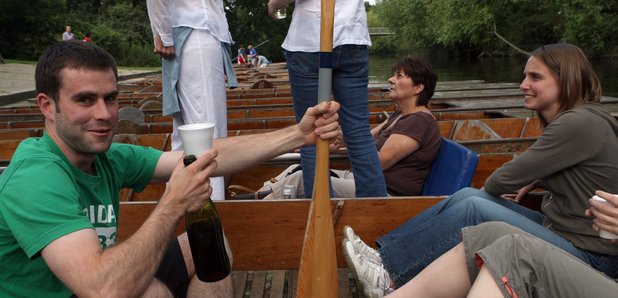 Cambridge City Council's won a court order preventing unauthorised punting.
The authority said Traditional Cambridge Tours and a number of individuals had trespassed by conducting unauthorised commercial operations on its land.
READ MORE:-
Cambridge City Council says it welcoms a High Court judgement granting an injunction to ban unauthorised punt businesses from using council owned land along the middle river to access the River Cam.

The council's riverside land, including land at Garret Hostel Lane, is being used by unauthorised punt operators, at locations that are not authorised punt stations and that do not have planning permission or approval from the council or the Cam Conservators.

The council has been clear for many years that it wants the unauthorised use of its land for commercial punting to stop and the injunction application was the most recent attempt to stop it.

The High Court hearing on 9 and 11 May took place amidst an escalation of the use of Garret Hostel Lane, where unauthorised punt businesses have started using a much larger pontoon for embarking and disembarking passengers that is blocking the slipway.

The presence of this unapproved punt station often causes congestion in the narrow lane, which is heavily used by pedestrians and cyclists, putting them and the prospective punt customers at risk of injury.

At peak times, this also causes congestion on the river as punts waiting to embark and disembark passengers have to queue to get access to the pontoon on the slipway.

In a related move last October, councillors approved proposals to tackle nuisance punt tour touts in the city centre by recruiting a new enforcement officer whose role includes strengthening implementation of the existing Public Spaces Protection Order (PSPO) at peak times of the day and weekends.

The PSPO makes it a criminal offence for punt tour touts to operate in certain areas of Cambridge, with anyone in breach of the order likely to face a £75 Fixed Penalty Notice. Some 77 notices have been issued to date with eight prosecutions for repeat offences.

Now that the High Court has granted the injunction, unauthorised use of the council's land at Garret Hostel Lane, Jesus Green, Thompson's Lane, Jubilee Gardens, Granta Mill Pond, Quayside, Silver Street and Sheep's Green for commercial punt activity is prohibited.

Anyone breaching the injunction may be guilty of contempt of court and could face a term of imprisonment, a financial penalty, or both. The council will now enforce the injunction as well as continuing to implement the PSPO.