Major Changes To A14
7 September 2018, 07:13 | Updated: 7 September 2018, 07:29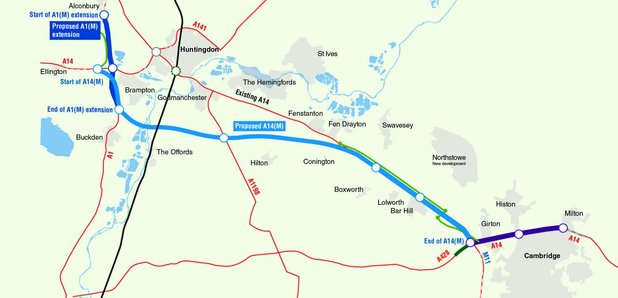 Part of the A14 in Cambridgeshire is set to become a motorway.
It will be an 18 mile section, between London and Peterborough and will be called the A14M, it will open in 2020.
The move will create an unbroken motorway link between London and Peterborough and will increase safety and improve journeys by encouraging local and long distance traffic onto the most suitable routes.
Highways England is nearly half way through the £1.5bn project to improve 21 miles of the A14 between Cambridge and Huntington, the biggest road upgrade currently in construction in the UK.
That means the main section of the A14 upgrade between the M11 and the A1(M) can have the benefits of a motorway, including variable speed limits which reduce congestion and help traffic move more smoothly.
Cambridgeshire County Councillor Ian Bates said:
"The A14 was completely off the agenda until we led a charge with local MPs and partner councils to get the much-needed improvements on this congested road.
We fully support the A14 Cambridge to Huntingdon major upgrade, which is why we contributed financially.
"The A14 becoming a motorway will improve connectivity from the M11 to the A1 at Alconbury and will serve Peterborough.
The upgrade of this road is vital to boost the local economy and create jobs. Cambridgeshire's economy is recognised as being able to help kick start the national economy and unblocking the A14 plays an important part in that."