Metro Mayor: Conservatives Clinch Title
5 May 2017, 18:14 | Updated: 5 May 2017, 18:22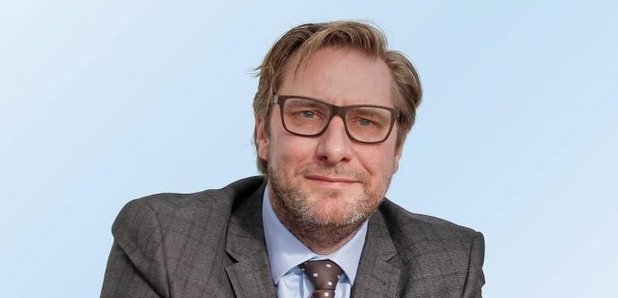 Conservative James Palmer has become the first regional mayor for Cambridgeshire and Peterborough.
Mr Palmer achieved a total of 88,826 votes, while Lib Dem Rod Cantrill had 67,205.
Counting included second-preference votes as no candidates achieved more than 50% in the first-preference round.
Turnout in the election was 33.57%, with 204,363 verified votes cast out of a total eligible electorate of 604,960.
South Cambridgeshire had the highest percentage turnout, of 42.43%, while the lowest percentage turnout of the six constituent councils was Peterborough City with 24.71%.
Speaking after being crowned mayor, at the Ross Peers Sports Centre in Soham, Cambridgeshire, Mr Palmer said:
"It's almost strange to stand here in this building I know so well, just yards from where I was educated and where my political beliefs were formed.
As a child in a secondary school in the early 80s, I found myself in the middle of a fight between the unions and the then Conservative government.
And the unions felt it entirely fair to ruin the education of children who were in secondary school at the time by taking many, many, many days of strikes.
Fairness is something that I believe in very strongly, and as mayor of Cambridgeshire and Peterborough I aim to make this whole area a fairer county with opportunities for all, giving the chance to spread the wealth from the south of the county to the north, east and west, making sure that everybody gets the chance to have apprenticeship schemes, of having a skilled job so they can take advantage of the Cambridge effect.
What we have here in Cambridgeshire is almost unique. We have the building blocks of success, we just need somebody to put it together.
Improving the infrastructure in the city of Cambridge, linking the great city of Peterborough to Cambridge and bringing Fenland into the fold are all absolutely vital if we are to be a success."'
He said he would work with Theresa May for the people of the area, and he was "immensely proud'' to be the area's first metro mayor.
REAL OPPOSITION
Lib Dems' Rod Cantrill thanked his wife, children and all those who supported him, and congratulated Mr Palmer on his victory.
He said:
"What this result highlights is that in this region it is the Liberal Democrats who are the real opposition to a Conservative government.
It highlights that there is a strong voice, a loud voice, particularly in south Cambridgeshire and Cambridge, where the residents have sent a clear message to Theresa May and will do again on June 8 in relation to hard Brexit.
It's a voice that clearly is saying that we will not let intolerance, division and fear win. That we want to be open, tolerant and united.''
The five candidates eliminated after the first-preference votes were counted were Kevin Price for Labour, Paul Bullen for Ukip, Julie Howell for the Green Party, independent candidate Peter Dawe and Stephen Goldspink for the English Democrats.
Elections were held across Cambridge City Council, East Cambridgeshire, Fenland, Huntingdonshire, Peterborough and South Cambridgeshire.