Network Rail "No Idea" What Caused Manea Derailment
16 August 2017, 07:12 | Updated: 16 August 2017, 07:15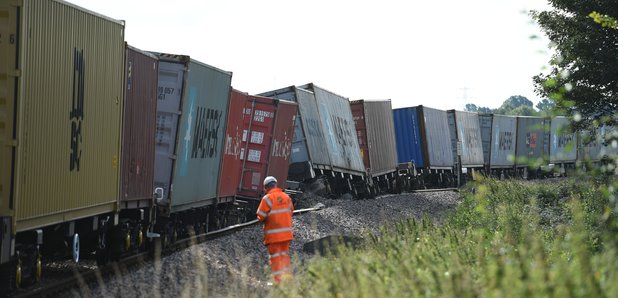 It's hoped passenger trains will be running on the Ely to Peterborough line again by Monday.
11 wagons on a 33-car freight train derailed at Manea two days ago, blocking the line and damaging tracks.
Heart's been talking to Network Rail, to ask them what caused the crash.
Simon Ancona told us: "We don't know that yet.
"The Rail Accident Investigation Branch have been taking very careful measurements to make sure we know what happened.
"The heaviest wagon that came off the tracks was 106 tonnes, with its containers. The wagons themselves are 11 tonnes each.
"We have to remove the containers, extremely carefully, then position the wagons back onto the rail.
"Before this, we'll split the train - ad the wagons that didn't derail will then move away."
Engineers from around the country are working to get the track re-opened.
Replacement buses are running between Ely and Peterborough for the rest of the week.