New Blood Unit At Addenbrooke's Praised By Patients & Family
20 October 2017, 07:38 | Updated: 20 October 2017, 07:57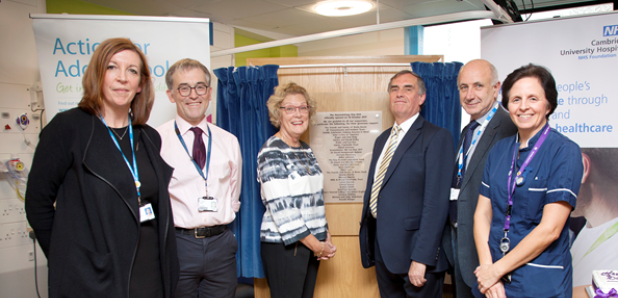 A new blood unit at Addenbrooke's Hospital has thanked a woman from Saffron Walden, for helping them get new life-saving equipment.
Hazel Mack, 65, raised more than £8,000 for a platelet agitator, in her husband Brian's memory.
The machine makes sure blood, that's needed for transfusions, doesn't clot before it can be used.
Brian died on Valentine's Day this year, after a two-year battle with cancer.
Hazel told Heart: "He hated hospitals so much, you could say the only agitator was him!
"But the staff were wonderful, and calmed him down every time when he was panicking and stressing about his chemotherapy.
"When Brian died, I wanted to give something back to the hospital that treated him so well - and instead of flowers at his funeral, I asked for donations instead."
The platelet agitator is just one part of the Cambridge hospital's brand new haemotology centre.
It opened on Wednesday afternoon, and has far more space than the old unit, that was known as E10.
Mervyn Martin, 67, a patient who's in remission from bone cancer, told Heart: "It's natural to be worried when you find out you need to go here for treatment, so a lot of people will take someone with them.
"In the old E10 unit, it was common to see people standing while they waited, sometimes for an hour. It was so cramped - and not good for patients or staff."
The new day unit has moved down to ground level, from the tenth floor. There are 23 beds, four side rooms, and a quiet room.
Addenbrooke's Hospital sees around 7,000 patients a year with blood disorders.