New Cycleway Promises To Link Up Cambridge & Melbourn
7 August 2017, 07:38 | Updated: 7 August 2017, 10:11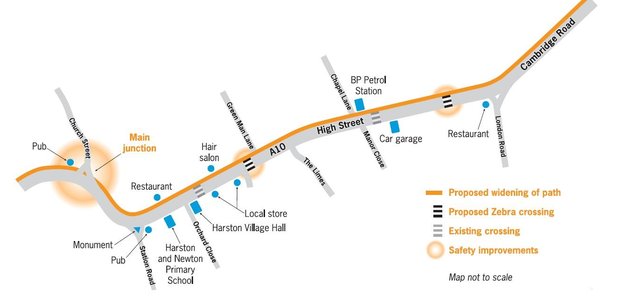 £1.2million is being spent on a new Cambridge cycleway, that starts getting built from this morning.
The Harston route is being billed as the "missing link" between the city and Melbourn, along the A10.
The 3m wide shared foot and cycleway will be on the west side of the High Street.
The work is starting at the southern end of the village, and continuing north to London Road.
Improvements are due to last for around 18 weeks; and during this time, shops and businesses in the area will be open as usual.
During the work, there will be two-way temporary traffic lights in place for most of the time.
When traffic's at its lowest during the school holidays the lights will be in operation between 8am and 5pm (from Monday 7 August until 1 September).
After this, the lights will be in place between 9.30am and 3.30pm.
Cllr Ian Bates chairman of the County Council's Economy and Environment Committee, said, "The new cycleway aims to create a positive impact on the community. It will reduce traffic, promote a healthy lifestyle by encouraging people to cycle and walk. The project has been well received by local residents and businesses."
The work is being funded through the £10.1 million Cycle City Ambition Fund programme, provided by the Department for Transport to encourage more people to cycle, more safely, more often in Cambridge.