New Park & Ride Spaces For Cambridge
6 November 2018, 17:28 | Updated: 7 November 2018, 09:22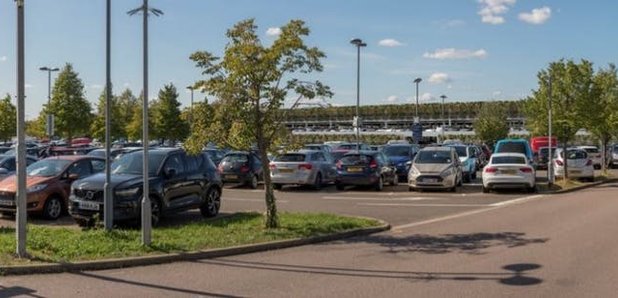 Plans are out to beef up Park and Ride in Cambridge..
There's a couple of new options on the table; to either expand Trumpington adding nearly 950 spaces with a multi-storey car-park or building a completely new Park & Ride site - just off the M11.

READ MORE:-
Plans to provide additional Park & Ride spaces to the south west of Cambridge to encourage more people to complete their journey into the city by public transport have gone out to consultation.
With a huge increase in new jobs and services expected at the Cambridge Biomedical Campus over the next ten years, the Greater Cambridge Partnership (GCP) is asking people for their views on two options for increasing Park & Ride (P&R) capacity to help to reduce congestion on the roads.
An increase of 274 spaces at Trumpington Road Park & Ride has recently been approved to help address the current challenge and work will start soon - but more needs to be done as future development places greater demand on our already congested road network.
The two options put forward in the public consultation are:
Expand the existing P&R site at Trumpington by constructing a 946-space multi-storey car park which would take the total number of spaces to 2,560
Construct a new 2,260-space P&R site north west of the M11 J11 taking the total number of P&R spaces available at the existing and new site to a combined total in the area to 3,874.
GCP are also asking for input on how cars, bicycles and buses get to and from both sites, as well as ideas for improving bus journeys from the Park & Ride into the city centre.
The public consultation launched this week and closes on 21 December.
Consultation leaflets are being delivered across the area from Wednesday to places including Hauxton, Harston and Trumpington, as well as villages out towards Royston
There are also five public consultation events being held in area on the following dates:
Trumpington Park & Ride - Tuesday 20 November, 7.30-9am - 43 Hauxton Road, Cambridge, CB2 9FT
Hauxton Primary School - Wednesday 21 November, 6-8pm - Jopling Way, Hauxton, Cambridge, CB22 5HY
Trumpington Village Hall - Thursday 29 November, 17.30-8pm - 75 High Street, Trumpington, Cambridge CB2 9HZ
Addenbrooke's Treatment Centre - Wednesday 5 December, noon-2pm - Addenbrooke's Treatment Centre, Keith Day Road, Cambridge, CB2 0SL
Harston Village Hall - 6 December 6-8pm - 20 High Street, Harston, Cambridge, CB22 7PX
You can find out more information and have your say online at www.greatercambridge.org.uk/parkandride