Paedophile Doctor Myles Bradbury 'Manipulated' Hospital Rules
22 October 2015, 10:43 | Updated: 22 October 2015, 10:46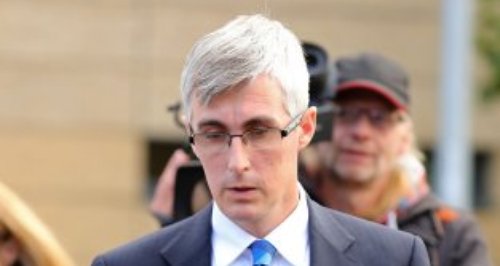 A report has found paedophile doctor Myles Bradbury "manipulated" hospital rules at Addenbrookes Hospital to avoid detection as he abused 18 boys.
Today (22 October 2015) sees the publication of an independent investigation into governance arrangements into the paediatric haematology and oncology service at Cambridge University Hospitals NHS Foundation Trust, following the Myles Bradbury case.
The independent investigation was conducted by Verita. The co-authors of the report are Lucy Scott-Moncrieff and Barry Morris.
Here's the report:
"Verita is the leading independent consultancy for regulated organisations in the UK. Our work ranges from specialist support and advice on challenging operational and strategic matters to reviews and investigations of complex, sensitive issues.
We were asked to review governance arrangements in the paediatric haematology and oncology service at the Trust and started our review in December last year. We were asked to consider whether the trust should have prevented or identified earlier Myles Bradbury's criminal behaviour; whether policies and processes intended to protect patients were robust, understood and followed, and whether there are any ways in which the trust could and should improve safeguarding in future.
We did not investigate and do not talk in detail in our report about the crimes themselves – that was, of course, a matter for the police. We interviewed 48 people, including trust staff at all levels, families of patients of the paediatric and oncology service, outside professionals and Myles Bradbury.
We were looking to discover if anyone had had any suspicion of Myles Bradbury before a concern was raised in November 2013, and, if so, what they did with their concern. We were also looking to see if people should have been concerned, even if they were not.
We were initially told that no one had had any suspicion of Myles Bradbury, but we did not accept this at face value and our interviews were designed to encourage staff and families to reveal any worries, vague concerns or anxieties that they may have had about him.
We looked at the way that safeguarding is thought about and carried out at the hospital, and the seriousness with which it was taken. We spoke to healthcare regulators and professional bodies about appropriate standards and looked at the independent reports and recommendations arising from a number of high profile cases of the sexual abuse of patients by doctors and other health care staff to see what they could add to our review.
We found that, contrary to our provisional expectations, no member of staff had suspected Myles Bradbury of unprofessional, let alone criminal behaviour. We spoke to one parent of a patient who had felt uneasy about Myles Bradbury's behaviour on one occasion, but who had not raised the matter as it could have had an innocent explanation.
We found that the trust responded promptly, effectively and in accordance with its own safeguarding policy and national guidelines as soon as a concern was raised. The effectiveness of the process was underlined by the fact that the concern was first raised with a receptionist whose immediate response to a query, rather than a complaint, does her great credit.
However, although we found no individual failings, the one policy that was clearly inadequate was the chaperone policy. We found that Myles Bradbury had been able to use the inadequacy of this policy, and the flexibility of the appointments arrangements, to commit and conceal his offences. Both policies have already been tightened up, and we have suggested further improvements that we urge the trust to act on.
But we accept that it is very much in the interests of patients and their families to have some flexibility in these matters. Rigid policies, although they might help eliminate the risk of abuse, would be impracticable and result in other aspects of care and treatment suffering. In our view the most effective ways to protect children from the risk of abuse in hospital, inaddition to existing safeguarding policies and best practice, are:
• For trusts to be quite specific in informing patients and their families what to expect from those providing care and treatment, both in terms of the details of the care and treatment and the behaviour of those providing it; and
• For patients, families and staff to be helped to recognise and encouraged to query any unusual behaviour without having to worry that this will damage their relationships with staff.
We consider that the trust is almost certainly not alone in needing to develop in this way, and have suggested that the NHS considers urgently how to ensure that all paediatric units look at these recommendations."