Party-Goers Left Out Of Pocket As Cambridge Prosecco & Balls Is Cancelled
8 December 2017, 05:18 | Updated: 8 December 2017, 12:00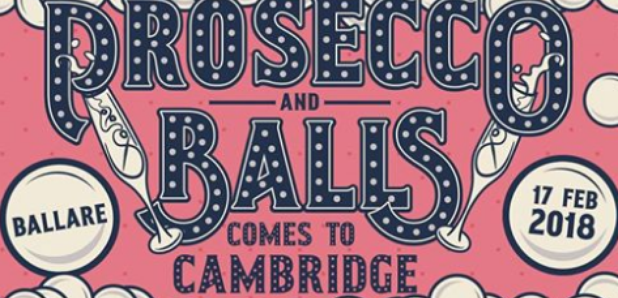 The concept of a giant ball pit with a Prosecco bar - supposedly coming to Cambridge in February - had really captured interest.
Nearly 300 fans of fizz and good times had marked themselves as "going" to the event, that was to be held at Ballare nightclub in Lion Yard.
The Facebook page - headed "Prosecco & Balls Comes To Cambridge" - was certainly vibrant, with a bright pink banner, and the words "Prosecco and Balls" adorned with what looked like Hollywood lights.
Tickets were advertised, via Facebook, on sites like Skiddle and Fatsoma for £16 a head.
But, things suddenly nosedived, as earlier this week promoters Prime Live Group issued a statement saying they were going into liquidation.
Their words read: "It is with deep regret that we are forced to cancel all upcoming prosecco and balls events. As a company it was our intention to bring this fantastic concept to a number of UK cities and provide a fun and entertaining day for all those in attendance.
"Around 2-3 months ago a hate group was formed against the company by a small group of disgruntled customers who believed our events weren't up to their expectations and made threats to damage any future events unless we adhere to some extreme negotiations...
"As a company Prime Live Group LTD have invested £10,000's into all our upcoming events and therefore we will be looking to recover this over time through the sale of all the companies assets.
"...it seems simple rumours and bullying tactics have forced us to cease trading as a company and seek advice from an insolvency agency."
Heart found, and asked to join, this alleged hate group - called "Day Of The Dead - IT'S A SCAM." It was set up by Pauline Squire, who had been to a Prime Live Group event before.
She told us: "My friends and I bought tickets to what we thought was going to be a huge Day of the Dead festival. It was publicised as being equal to the famous event in Mexico - with pinatas, acrobats, candy skulls, confetti cannon and food.
"So we'd spent a lot of money on costumes and travel. We were really looking forward to this big night out.
"When we got to the venue, they held us in a separate room for an extra hour. They told us they'd only had thirty minutes to set up the festival room, because there were bands still playing.
"They only had two candy skulls, a DJ and an LED screen saying 'Day Of The Dead' - it was a rave, playing rave music, and nothing like the festival we'd been sold. I started to realise I'd wasted my money."
Pauline told us the private group, that has more than 460 members, was set up as a forum to help people get their money back - as reports rolled in that similar advertised Day of the Dead events, by Prime Live Group, had been cancelled without notice.
She added: "Then it moved on to Prosecco and Balls. It was the same promoters, advertising in the same way that had drawn us in."
Siobhan McGuire bought tickets for the Cambridge Prosecco event for herself and a friend, when it first appeared on Facebook in September.
The carer, from Saffron Walden, told us: "It looked exciting, and something different, so straight away I said we should book.
"We'd had the tickets for quite a while, and had seen loads of Facebook updates, so we had no reason to think anything was up.
"When it went bust, though, I asked how to get a refund and was completely blocked from the page. My friends couldn't contact them either - and all we'd done was ask how we get our cash back."
Siobhan went to her bank and showed them proof of purchase. They issued a chargeback within 24 hours.
She added: "This Day of the Dead group, that I've joined, is not there to hate on anybody. We're trying to help, because a lot of people have spent money that they haven't got back yet. Don't let these guys' Christmas be funded by your money!"
Prime Live Group Limited is registered to an address on Wood Street in Liverpool. It was established on August 31, 2017 and is listed on Companies House as 'Active.'
Heart found no website or phone number linked to Prime Live Group.
Their Facebook statement declared: "The police already are currently looking to prosecute various members of this hate group as comments of suicide, forced entry into personal properties and violence towards staff members have been made."
Heart has contacted Merseyside Police, who have informed us this is now a civil matter.
A spokesperson for Ballare nightclub has told us: "We're disappointed that the Prosecco & Balls event has been cancelled by the promoter and won't be going ahead.
"We'd encourage anyone who booked tickets to contact Skiddle or their bank immediately for a full refund."
Heart has contacted Prime Live Group directly, and is awaiting their response.