Peterborough Traffic Scheme Approved
31 October 2018, 18:11 | Updated: 31 October 2018, 18:14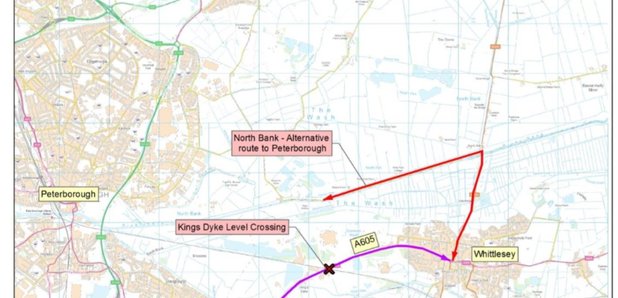 On the day the new 1 mile Ely Southern Bypass has opened, the green light has also been given to cut traffic delays between Peterborough and Whittlesey.
Funding has been approved today for the new Kings Dyke level crossing project.

Steve Count, Leader of Cambridgeshire County Council said:

"This is a really important scheme with huge benefits.

Cambridgeshire County Council has worked closely with the Cambridgeshire and Peterborough Combined Authority since they became the Transport Authority, and we are very pleased that they have agreed to provide the extra funding required for the Kings Dyke level crossing scheme.

The current level crossing has been a bottleneck for a long time, with slow moving freight trains causing an average minimum delay of 13 minutes and often very much longer. This is bad for local people and bad for the economy of the area.

It's fantastic that this scheme is now going ahead and the new road and bridge over the railway track will bring economic prosperity to Whittlesey and Peterborough.

It's great news that we can now commence the construction phase with the support of Mayor James Palmer and the Combined Authority.

I know all parties are looking forward to seeing the project being built and having the new road open."

Next steps will be for Cambridgeshire County Council to complete the land acquisitions, sign the construction contract with Kier and to commence the statutory undertaker diversions including the moving of power lines by UK Power Networks.

It is expected the main construction work will begin in spring 2019 with the new road and bridge opening in late 2020."