Pictures Released Of Tom Cruise At RAF Wittering
6 August 2015, 10:24 | Updated: 6 August 2015, 10:27
Paramount Pictures have released pictures showing the filming of Mission Impossible 5: Rogue Nation at Royal Air Force Wittering in November 2014.
The story for RAF Wittering began several months beforehand with the reactivation of the airfield in April 2014. This meant that Royal Air Force Wittering was a Station with a functioning airfield, but no resident flying squadrons.

It was an unusual set of circumstances, but one that made the Cambridgeshire Station ideal for the production crew of Mission Impossible 5. In events more in keeping with RAF Wittering's Cold War past, a series of clandestine meetings followed to determine the suitability of the historic base.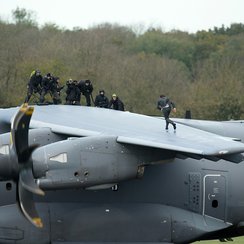 RAF Wittering was one of several air stations and airports in contention for the filming but the Station's long runway and wide taxiways, originally built for V-Bombers, made the airfield an ideal choice.

Weeks of intense work followed with personnel from Air Traffic Control, Operations Wing, Business Management and Support Wing furiously preparing the Station for the coming of Mission Impossible.

On 28th October 2014 the wagons and 300-strong crew arrived at RAF Wittering, joined soon after by a contingent from Airbus and the A400M transport aircraft which was the centrepiece of the filming.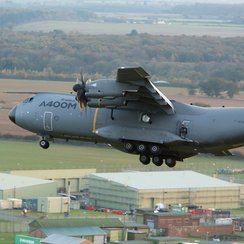 After years of little aircraft activity, the arrival of such a large aeroplane did not go unnoticed and soon the world's media buzzed with stories of breathtaking aerial stunts at Cambridgeshire's most famous Royal Air Force Station.

For Senior Aircraftwoman Emma-Jo Larney one particular evening proved very memorable. Emma-Jo was duty driver on the night Tom Cruise arrived by helicopter at RAF Wittering, she led a convoy of vehicles out to his helicopter.

Emma-Jo said; "I didn't think that I'd ever meet anyone famous when I came to RAF Wittering, so it was a real surprise when I met Tom Cruise. He was really friendly and introduced himself to me, which I didn't expect."

But the end of filming did not mean the end of the film industry's interest in Royal Air Force Wittering. Afterwards other filmmakers contacted the Station, interested in using the expansive airfield. Flying squadrons had moved in, however, and the window of opportunity had closed.
Group Captain Richard Pratley became the Commanding Officer of Royal Air Force Wittering in June 2015. He said; "Mission Impossible was a huge event in the life of this Station. The fact that the Station coped so well with a project of this size speaks volumes for the calibre of people we have here."

He continued; "Of course, it was great to have the movie here, but we have not lost sight of what we're here to do. No matter how famous this Station becomes, RAF Wittering is here to support deployed air operations and prepare future generations of RAF pilots."