RAF Hosts STEM Students Competition
28 April 2017, 12:58 | Updated: 28 April 2017, 13:00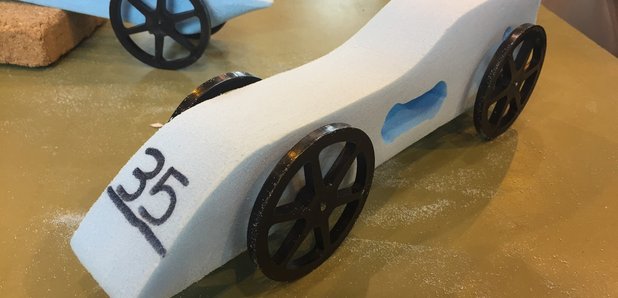 Rocket powered micro-dragsters have been racing at RAF Wittering as primary and secondary school teams including those in Cambs and Northants, competed in the regional finals of Bloodhound SSC Race for the Line.
Educators from the Bloodhound Supersonic Car Project use Race for the Line to introduce children to Science, Technology, Engineering and Maths (STEM subjects) in an educational and fun way.
Around 25 primary and secondary school teams designed and built their own polystyrene rocket cars. Help was on hand yesterday (Thursday 27th April) from the engineers of 71 (Inspection & Repair) Squadron, who actually built the floor and tail fin of the real Bloodhound supersonic vehicle.
Flying Officer Daniel Eyre is an RAF Wittering engineer and organised the day. He said:
"Building their own dragster is a great way for STEM students to understand basic aerodynamics and see how science, maths and engineering support what we do."
The children were endlessly creative and imaginative with designs ranging from the sleek 'Thunderbird' by Wellingborough's Wrenn Academy, to Eyrescroft Primary School's Santa-Pod styled 'Supersonic'.
Wing Commander Craig Watson, RAF Wittering's Senior Engineer, said: "It's amazing just how intuitive these kids are, they actually have a feel for what's going to work and got stuck in really fast. If you can make engineering fun, children will always respond to it positively."
Testing began after lunch in a specially cordoned area. The educators from Bloodhound carefully installed miniature rocket motors into the little cars and tethered them to a line so they ran straight and didn't fly off. With a 'Three, two, one!' and cheers from the children, the rocket powered cars zoomed along the wires.
Lees Brook Community School from Derby won the secondary school category with their car called 'The Car'. The proud and excited team will now go forward to the national Race for the Line finals at Santa-Pod on the Beds/Northants border.
Joining them will be the team from Plumtree Independent School in Nottingham who won the primary school category with 'The Bullet'. Their teacher, Mrs Frances Connell described herself as 'speechless'.
Wing Commander Watson concluded:
"RAF Wittering and the Bloodhound team have spent the day educating children and the children have had great fun learning about aerodynamics and engineering. They've done ever so well, it's been a really memorable day and a pleasure for us to host this event."